Thanks to advancements in synthetic grass construction, artificial turf looks a lot different than it used to. In the past, fake grass looked and felt like cheap plastic, but today you can customize almost every aspect of your chosen turf, from the color to the hatching to the height to create a realistic landscape with a number of benefits. While synthetic lawns are becoming increasingly popular with homeowners, the low-maintenance alternative is also moving into the commercial property market for plenty of reasons. If you're interested in saving time and money, all while having a perfectly manicured lawn year-round, commercial property artificial turf might be the answer. 
Reduced Maintenance Costs
A primary reason that homeowners have chosen to install synthetic lawns is the time they get back that otherwise would be spent on landscaping. Maintaining a small backyard with watering, mowing, and fertilizing can be expensive and time-consuming, but the effects are increased exponentially for commercial properties. Businesses like hotels, golf courses, and shopping centers often use extensive decorative landscaping features, which means a higher water bill, expensive professional services, and hefty prices for lawn-enhancing chemicals. These costs could be slashed with the introduction of artificial turf, which requires no mowing, watering, and only needs a little bit of upkeep. 
Commercial Building Artificial Turf is Green Year-round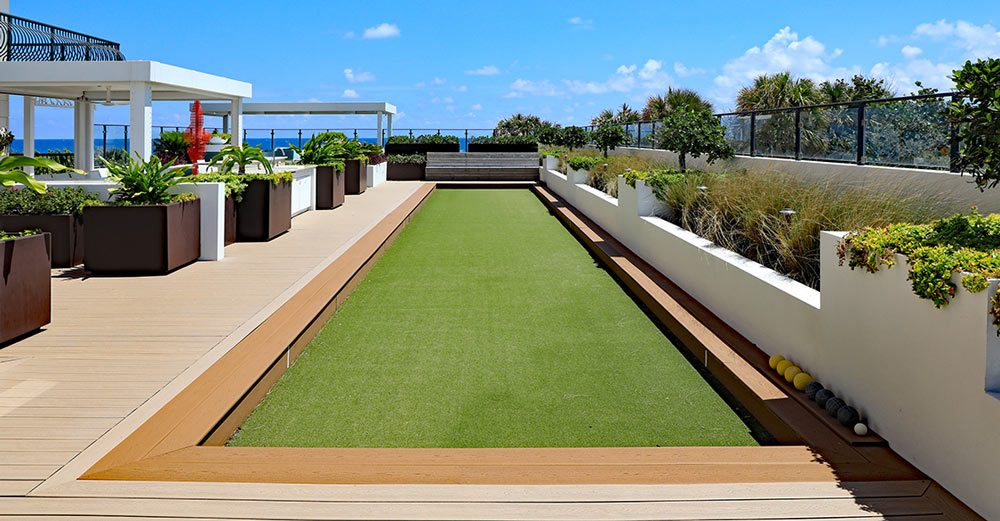 Imagine having a lush, bright green lawn every day of the year, despite the season or weather conditions. Customers and clients are constantly evaluating new spaces, which means it's essential to make a good first impression. Artificial turf presents a reliable solution to lawn care, especially in drought-prone regions or environments where the grass is difficult to grow, but still desirable. On top of maintaining a perfectly manicured image, synthetic turf is durable enough to withstand heavy foot traffic and is not susceptible to holes, divots, or mud puddles like natural grass. 
Eco-friendly Design
The amount of water you will save after installing an artificial lawn might amaze you. In areas like California where water can quickly become a hot commodity during the summer, it seems senseless to waste it on a patch of grass. Put your business's best foot forward by showing your commitment to eco-friendly design and sustainability. Additionally, because synthetic grass does not require fertilizers or pesticides, you can rest easy knowing that your landscaping is not contributing to the toxic, harmful runoff.
Clean and Safe Environment 
Unlike real grass, which creates the perfect environment for unwanted insects and invasive pests, you never have to worry about these nuisances with an artificial lawn. Not only is the material safe for pets because it protects them from acquiring harmful hitchhikers, but it also offers a number of benefits to children. Constructed with the most durable adhesive, the non-abrasive surface of the material prevents cuts and scrapes from forming while the cushioned backing provides extra shock absorption in the instance of falls. Artificial grass creates a clean environment for your customers, no matter what type of commercial property you own. 
At SYNLawn Sacramento, we supply home and business owners with the highest grade commercial building artificial turf available to create an unforgettable first impression. Contact one of our friendly, knowledgeable staff members today and make the switch to synthetic grass.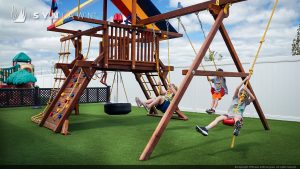 Making playgrounds in Sacramento, CA is simple with artificial playground turf systems from SYNLawn Sacramento. Playtime is meant to be a carefree and fun experience. At SYNLawn Sacramento, we aim to ensure this is the case for all playgrounds and play areas in the Sacramento area. Our SYNLawn synthetic playground grass is manufactured with plant-based…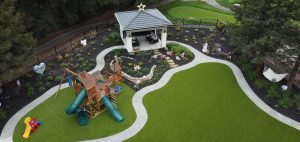 At SYNLawn Sacramento, our artificial grass has come a long way from the 70s and is presently a highly realistic alternative for traditional grass in Sacramento, CA. At times, it can even be difficult to tell at first glance whether or not our SYNLawn synthetic grass is actually synthetic. Our team takes great pride in…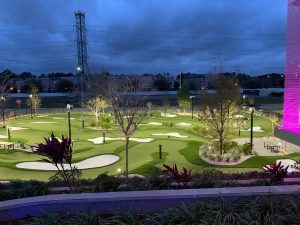 Practicing your short game has never been easier than with the revolutionary Sacramento putting green turf from SYNLawn. Never before has it been easier to enjoy your favorite from the comfort of your home while improving your golf scores. Nearly 80% of shots are lost to par in the short game (125 yards around the…