Practicing your short game has never been easier than with the revolutionary Sacramento putting green turf from SYNLawn. Never before has it been easier to enjoy your favorite from the comfort of your home while improving your golf scores. Nearly 80% of shots are lost to par in the short game (125 yards around the hole). However, with SYNLawn golf turf, engineered in partnership with professional golf coach Dave Pelz, statistics show Sacramento golf turf is proven to help lower your scores and sharpen your skills.
GreenMaster® Certified Installers
While many companies offer artificial turf for golf, SYNLawn uses the highest quality and performing materials to manufacture Sacramento golf greens including base materials, adhesives, spikes, cups, and more. To ensure that our products provide a consistent experience SYNLawn golf greens are only installed by our GreenMaster™ certified installers. GreenMaster™ installers must first master preparing a perfectly smooth base to work with. This ensures that the installation base is free of debris to prevent bumps, unwanted bounce or ball interference, and more. Next GreenMaster® installers are required to seamlessly integrate Sacramento golf greens into the existing features of your landscape. This includes preserving the quality of your lawn or landscape and preventing unsightly seams that break the illusion of natural grass and the placement of your golf installation. Finally, GreenMaster™ certified installers must undergo regular training to ensure that the quality of our installations never suffers.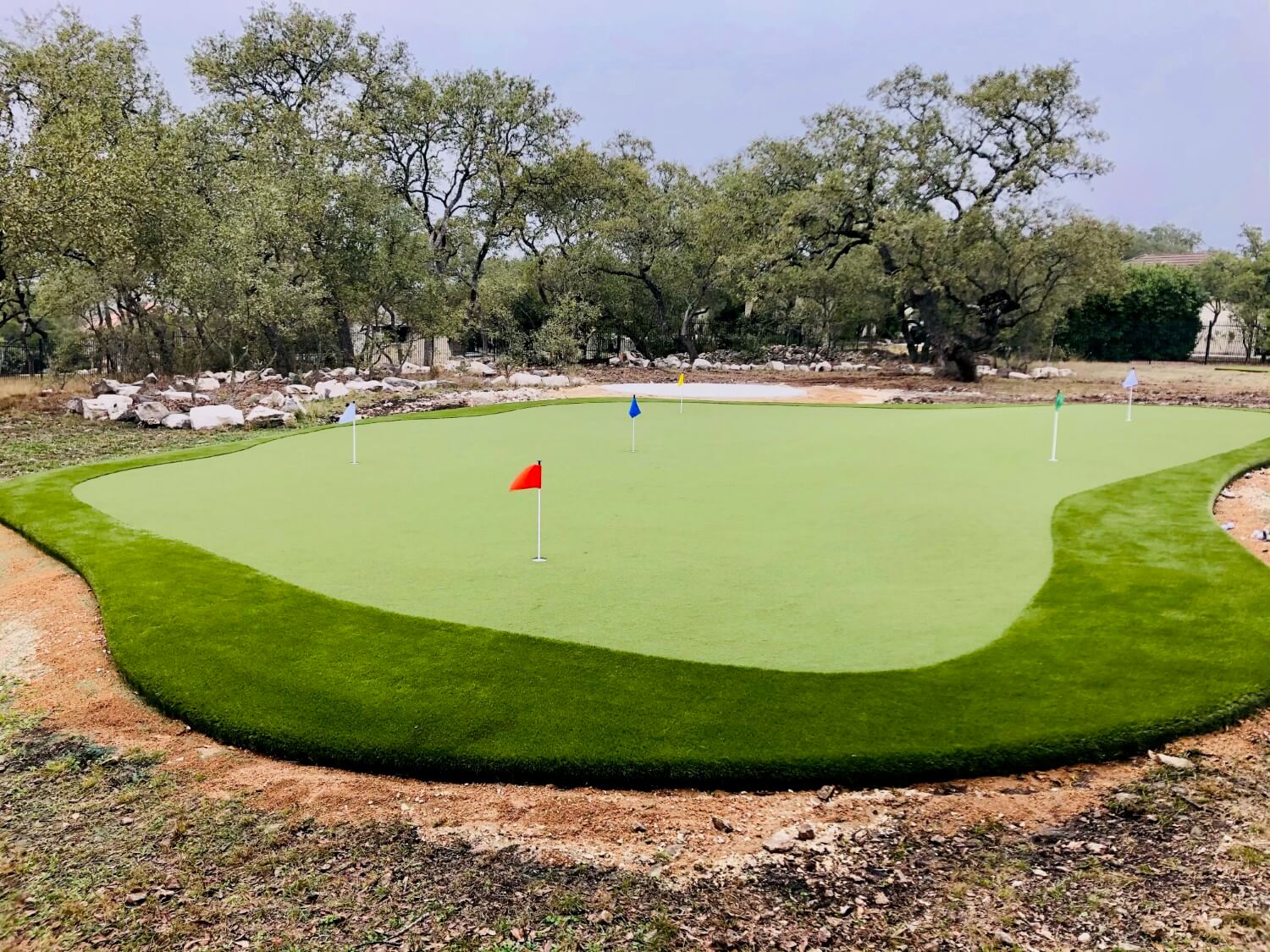 Customize Your Sacramento Putting Green Installation
SYNLawn strives to provide the ultimate satisfaction to all of its clients. Beyond our incredible material quality and designs, we give you the creative freedom to fully customize your course. We work closely with our customers whether they are residential or commercial customers to help them achieve their ideal golfing experience. We offer a variety of golf green options that will help you create the ultimate 18-hole course, create an at-home mini-golf course, or take a break from work with one of our portable options. In addition, you can choose from the fairway, fringe, collar, or rough options, or install LED uplights for added fun.
Low-Maintenance and Earth-Friendly Golf Greens
It's no secret that golf courses undergo consistent upkeep to make sure that they look and perform their best at all times. For residential and commercial property owners this is not always an easy task. Business owners especially do not always have the time or the extra money to spend on maintenance. That is why golf enthusiasts prefer SYNLawn Sacramento golf turf. Much like our other artificial grass options, we follow a low-maintenance philosophy when manufacturing our turf. This means no more mowing, watering, or fertilizing. Instead, you simply enjoy the PGA performance and appearance of the most realistic putting greens Sacramento has to offer. SYNLawn utilizes eco-friendly materials to significantly replace petroleum components from our manufacturing. One of our highest priorities is environmental sustainability and with the help of US soy farmers, we can source renewable soybeans and sugar which makes our golf turf recyclable and reusable for future project installations, helps us conserve tens of thousands of gallons of water, and heavily reduce carbon emissions from gas-powered lawn equipment. Eliminate monotonous maintenance, cut your water bill by more than half, and make mud and mess a thing of the past.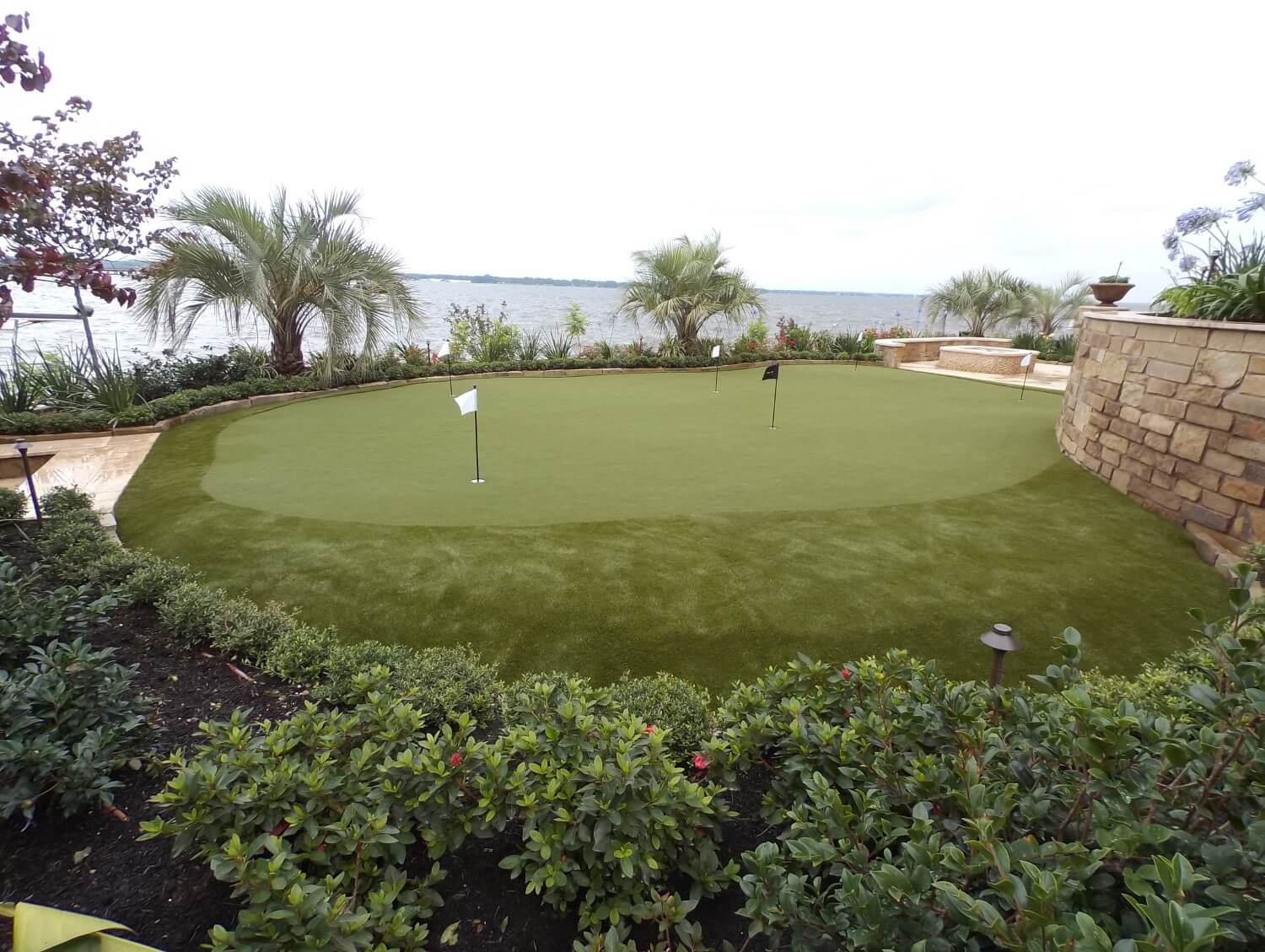 SYNLawn provides the highest quality, ultra-realistic golf grass at affordable pricing with options for financing available. We have decades of experience innovating Sacramento artificial grass with the latest in turf technology and environmental benefits. For more information about Sacramento golf greens, contact us today to schedule a consultation and receive a FREE quote on your brand-new golf green!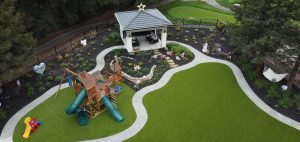 Artificial playground turf from SYNLawn Sacramento is changing the way we and others design playgrounds in Sacramento, CA. A trip to the playground is a fantastic way for kids to unwind, explore, and hang out with friends. As parents, we enjoy seeing our kids play and just be kids. Unfortunately, we are also aware that…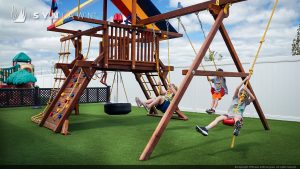 Making playgrounds in Sacramento, CA is simple with artificial playground turf systems from SYNLawn Sacramento. Playtime is meant to be a carefree and fun experience. At SYNLawn Sacramento, we aim to ensure this is the case for all playgrounds and play areas in the Sacramento area. Our SYNLawn synthetic playground grass is manufactured with plant-based…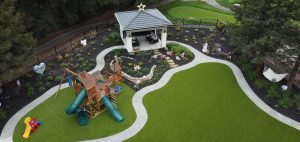 At SYNLawn Sacramento, our artificial grass has come a long way from the 70s and is presently a highly realistic alternative for traditional grass in Sacramento, CA. At times, it can even be difficult to tell at first glance whether or not our SYNLawn synthetic grass is actually synthetic. Our team takes great pride in…