Mini golf construction in Sacramento, CA
Mini golf construction in Sacramento, California doesn't have to be a hassle. Get it right the first time by choosing the professionals at SYNLawn Sacramento. Do you remember spending numerous hours with your friends and family at a mini golf course when you were a kid? This is a familiar memory for a large number of people who adore playing mini golf throughout Sacramento.
It takes a beating and stays green
If you're interested in building your own miniature golf course to help build those memories for a future generation, or you need to renovate an existing course, then consider artificial grass by SYNLawn.
It's luxuriously soft and realistic-looking not to mention being low maintenance and durable. Bring your childhood memories to life again by using artificial grass for your mini golf course.
One of the biggest complaints people have about playing mini golf on worn out fake grass of yesteryear is the unevenness. It's not uncommon to dig into the substrate and rip up the grass, leaving divots and tears that are difficult to fix. This can adversely affect the golfing experience. After all, who wants to play mini golf on a course filled with divots or tears? An unsightly golfing surface can also be bad for business as it can drive customers to competing golf turfs.
The easy remedy is installing modern artificial grass. It's incredibly resistant to damage by golf club swings and food traffic. It also doesn't succumb to intense heat and water shortages regardless of season. Even better, it stays impeccably green all year long.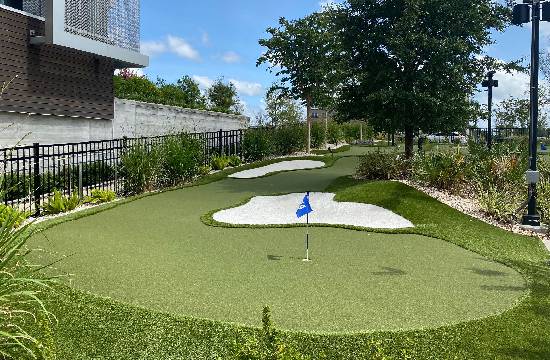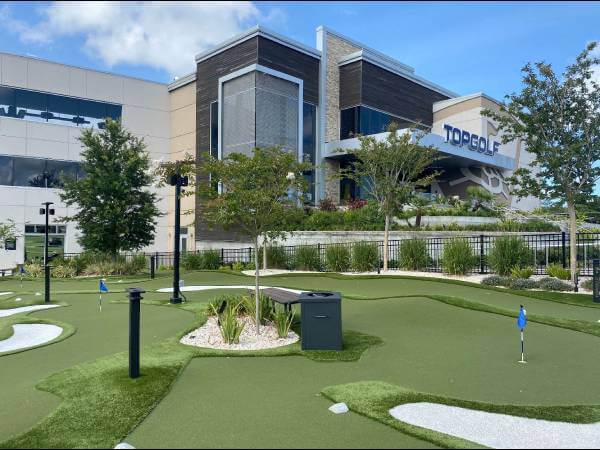 While natural grass has served well in the past for putting greens, it requires a tremendous amount of upkeep. Maintenance is either done by the course owner themselves, which takes time away from the business, or by hiring a lawn care company that requires a long-term contract. Either option can cost an arm and a leg.
The beauty of installing synthetic turf for mini golf is that it requires less maintenance over time. Additionally, the turf doesn't sprout uncontrollably when it rains, and it doesn't get damaged by either heat or lack of water.
It retains its lush and green appearance without the need for maintenance. When other golf courses use lawn chemicals, your course is lush and green, while your competitors damage the environment.
Are you ready for a free consultation?
If you're considering mini golf construction or renovations in Sacramento, CA, then you want the look and durability of artificial turf. It has all the benefits of natural grass and none of the downsides. We work with you to create the perfect design for your course and synthetic grass.
Do you want to turn the heads of customers and be the envy of your competition? Consider our turf for your mini golf course. If you want to learn more about our many types of artificial grass or to get a free estimate, then please contact one of our experts today.
Please fill out all mandatory fields with an astrerisk *
Your information will be held confidential with our company.