Residential Sacramento Artificial Grass Installers
Homeowners in Sacramento are loving the transformation we provide to their landscape with SYNLawn Sacramento artificial grass. Sacramento artificial turf is without a doubt the most lifelike, low-maintenance, and environmentally friendly grass product on the market. SYNLawn products create luxurious lawns without any of the regular maintenance required to keep natural grass alive. Our artificial grass is made right here in the USA at our own factory in Dalton, Georgia. This enables us to quality control every step of the manufacturing process to ensure that our customers receive the highest quality turf possibe.
We have been innovating our products for more than 50 years to improve the quality of life for our consumers, protect the environment, and offer a variety of exclusive benefits and technologies.
Exclusive Super Yarn™ turf yarn formula includes an effective anti-microbial, anti-static, and IR reflective yarn formula to prevent and eliminate stains, odors, the transfer of static electricity to the turf, and prevent the turf from fading
Up to 20% cooler surface temperature than any other turf n the market thanks to our exclusive HeatBlock™ technology
ASTM E-108 Class A fire rated and tested to help prevent the
spread of fires
Made with recyclable materials in the USA
UV-stabilized turf yarns to prevent color pigments from dulling in direct sunlight
Omega-shaped turf blades support the integrity and upright position of turf fibers
Designed with superior drainage of up to 1,200 inches per hour to keep lawns free of mud and flooding
Resists shedding and tearing thanks to our incredibly tough, plant-based EnviroLoc+™ backing system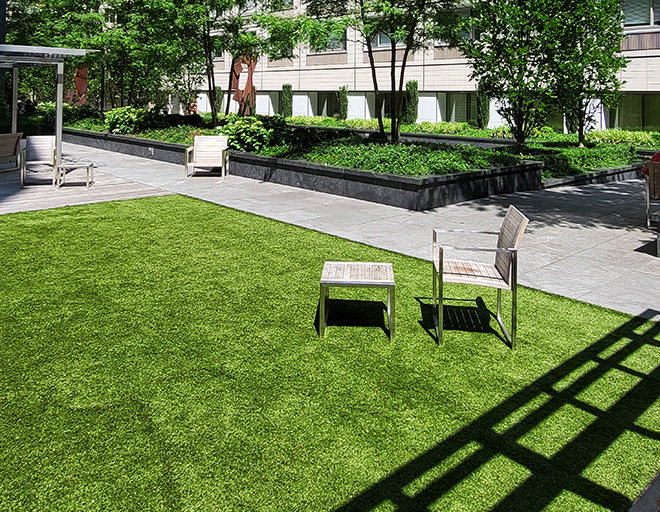 Professional Sacramento Turf Installation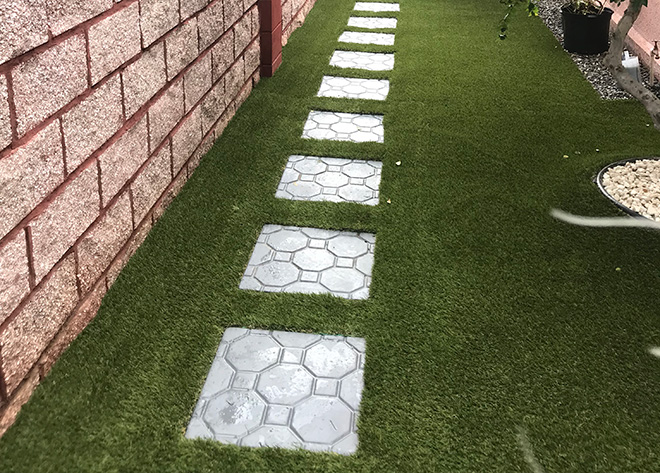 Although anyone could conceivably install artificial grass, you would miss out on the advantages of hiring a professional to guarantee the job is done correctly the first time. SYNLawn synthetic grass is backed by our unrivaled lifetime warranty, and we are fully licensed and insured to work on million-dollar projects from beginning to end.
By hiring an expert to install your Sacramento artificial turf, you can prevent future repairs, manage quality, avoid full lawn replacement, and feeling abandoned in the event that the installation doesn't go as planned.
SYNLawn goes above and beyond to ensure that your foundation is free of debris that will lead to injury and discomfort. If there are obvious stones or seams, you are more likely to injure yourself or trip over badly built fake grass. Furthermore, the presence of seams instantly destroys the illusion of natural grass. We put conscious effort to ensure that your lawn shows no seams and appears flawlessly for years to come.
Finally, our highly trained, Sacramento turf installers will ensure that your installation flows effortlessly into your existing landscape. We want to you to have the best lawn for years to come, that is why we back our products with a lifetime warranty.
Are you ready for a free consultation?
Never settle on quality and professionalism for affordability. At SYNLawn, we confidently offer you everything in one legendary package. We want to transform your residential landscape with the highest quality Sacramento artificial grass at the most affordable price with options for financing available.
Regardless of your budget, we can make it possible for you to achieve your dream landscape that will last for more than 20 years with minimal maintenance. For more information about our Sacramento turf installation services and artificial grass collection, contact us today to schedule a free consultation!
Please fill out all mandatory fields with an astrerisk *
Your information will be held confidential with our company.