Artificial playground turf from SYNLawn Sacramento is changing the way we and others design playgrounds in Sacramento, CA. A trip to the playground is a fantastic way for kids to unwind, explore, and hang out with friends. As parents, we enjoy seeing our kids play and just be kids. Unfortunately, we are also aware that there is always a possibility of injury. While we want our children to have fun, we also understand how important it is for them to be as safe as possible. That is why the team here at SYNLawn Sacramento offers safer, cleaner, and longer-lasting synthetic playground grass.
Safer Artificial Playground Grass in Sacramento, CA
SYNLawn and SYNLawn Sacramento are widely known for our innovations in the artificial grass market. One of the ways we stand out is our ability to offer playground turf that meets high commercial safety standards. We are proud to offer our customers a variety of SYNLawn Sacramento synthetic playground grass options that meet IPEMA certification criteria. By upholding these guidelines, we can help protect our children from numerous playground injuries as well as potential infections that can pose more significant health hazards. Our IPEMA-certified alternatives also include fall protection ratings of up to 10 feet.
Low-Maintenance and High-Quality
Appearance is key when choosing any environment to spend time in. Fortunately, SYNLawn Sacramento synthetic turf is designed specifically to remain beautiful year-round. We provide ultra-realistic playground turf systems that do not require any traditional maintenance. We also help eliminate the need to mow, water, or fertilize your landscape, saving you time and money year after year in Sacramento, California.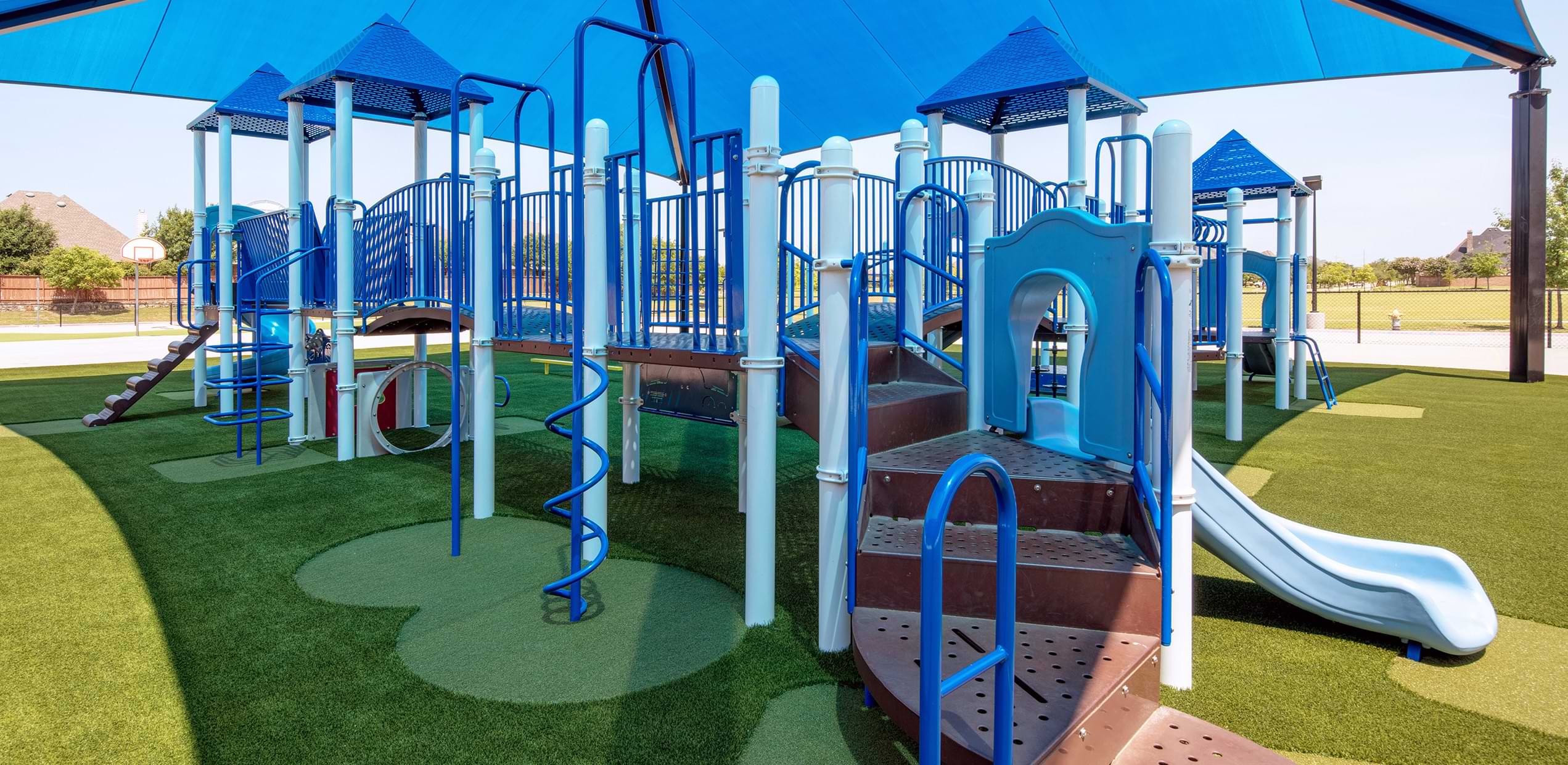 Performance and Durability
When designing a playground, it is important to consider how your landscape will hold up over extended periods of use. Rest assured that choosing SYNLawn turf means superior durability and performance for high-activity and heavy foot traffic. Our Sacramento artificial playground grass has what it takes to resist shifting, shedding, and tearing. From relaxation to more intense athletic activity, you can worry less about the cost of surface repairs or maintenance.
Stay Cool with HeatBlock™ Technology
Throughout the year, temperatures can fluctuate. Sacramento is no stranger to summer heat, which can make it difficult to enjoy outdoor playtime. For this reason, we have implemented our exclusive HeatBlock to help ensure that your playground surface or backyard stays cooler and more comfortable year-round. Our HeatBlock technology is scientifically proven to reduce surface temperatures by up to 20% cooler than any other competing turf brands. This enables you to enjoy the feeling of the synthetic grass beneath your feet with a far lower risk of burned skin.
Eco-Friendly Sacramento Playground Turf Systems
SYNLawn Sacramento is an advocate for environmental sustainability. We aim to provide customers with turf that will help conserve thousands of gallons of water, reduce carbon emissions, and be recycled for future applications. This is made possible thanks to our relationship with US soy farmers. We utilize plant and bio-based components in our artificial turf to help ensure that they will last for years, can be recycled, and can be repurposed for future projects.
In addition, SYNLawn is delighted to be the first and only company to provide a growing library of USDA-certified grass substitutes. This shows that our products include more than 60% plant material and, when paired with our patented EnviroLoc+ backing technology, up to 80% plant content.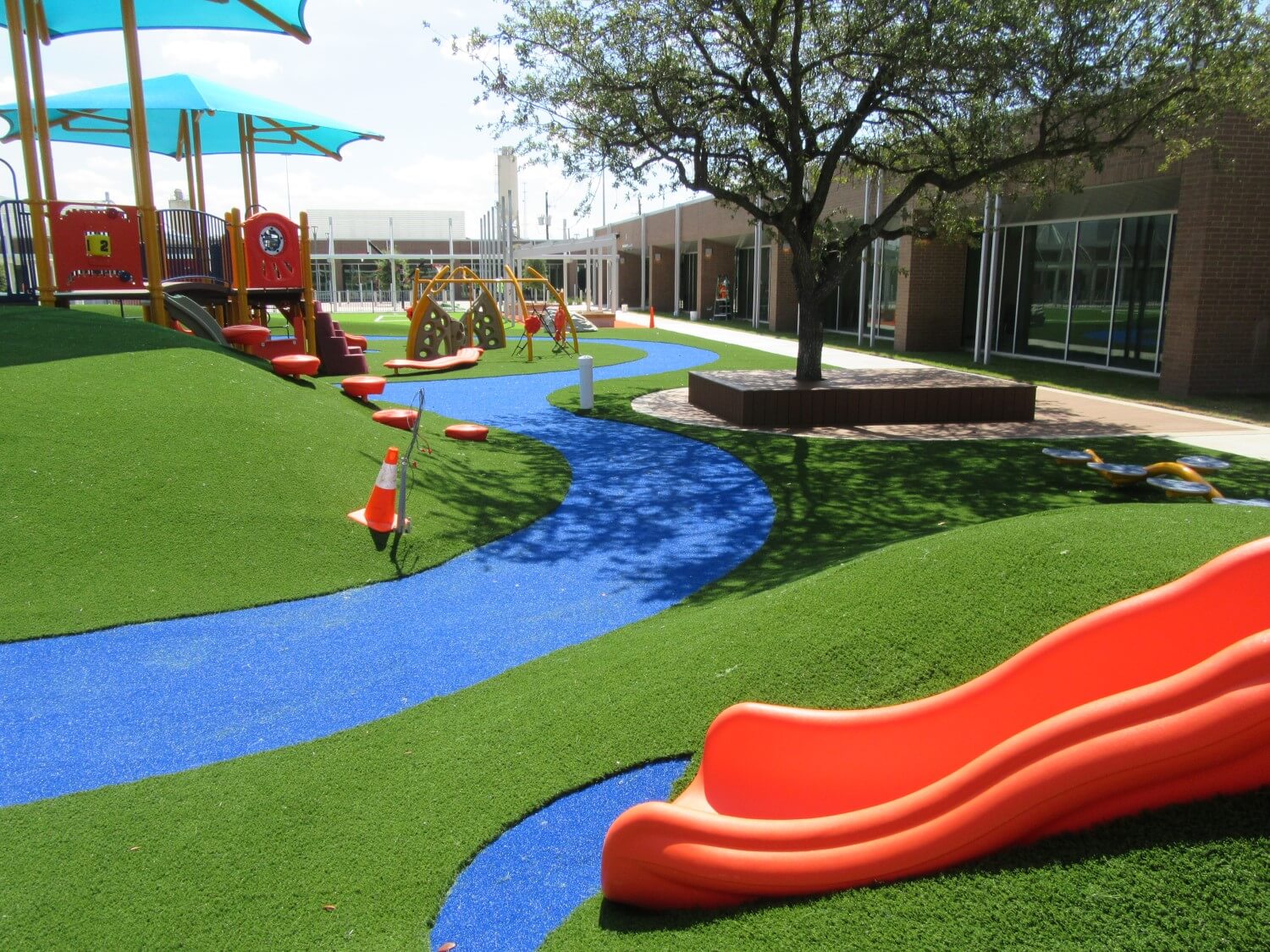 Contact Us Today to Learn More About Enhancing Your Sacramento Playground with Our Safer Artificial Playground Grass!
SYNLawn Sacramento continues to go above and beyond to disrupt the local artificial grass market in Sacramento, CA, with our technologically advanced, sustainable, and realistic artificial playground turf. We are licensed and insured to work on large-scale commercial projects, back our synthetic turf with an unmatched warranty, and offer payment plans to accommodate nearly all budget types.
If you are ready to get started designing your brand-new playground, contact us today to schedule your free consultation!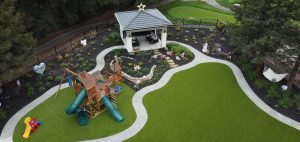 Artificial playground turf from SYNLawn Sacramento is changing the way we and others design playgrounds in Sacramento, CA. A trip to the playground is a fantastic way for kids to unwind, explore, and hang out with friends. As parents, we enjoy seeing our kids play and just be kids. Unfortunately, we are also aware that…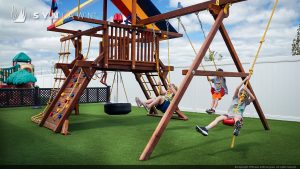 Making playgrounds in Sacramento, CA is simple with artificial playground turf systems from SYNLawn Sacramento. Playtime is meant to be a carefree and fun experience. At SYNLawn Sacramento, we aim to ensure this is the case for all playgrounds and play areas in the Sacramento area. Our SYNLawn synthetic playground grass is manufactured with plant-based…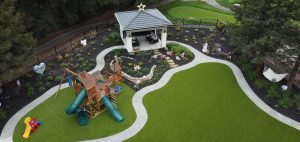 At SYNLawn Sacramento, our artificial grass has come a long way from the 70s and is presently a highly realistic alternative for traditional grass in Sacramento, CA. At times, it can even be difficult to tell at first glance whether or not our SYNLawn synthetic grass is actually synthetic. Our team takes great pride in…