Artificial turf is a long-term lawn solution, but it's not a permanent solution. While the benefits of artificial turf include lower maintenance needs and cost-savings, over time, artificial turf will be worn down by use. Well-cared-for, quality turf can last up to 20 years. 
When homeowners just don't think their turf can go another year, it's time for a replacement. But what's one to do with all the old material? Almost every homeowner asks, "Is artificial turf recyclable?" Yes, most artificial turf is recyclable because it is made with common materials. Learn more about what goes into artificial turf and how it can be recycled below.
Can Artificial Turf be Recycled?
For some, the biggest draw to artificial turf is its environmentally friendly features. So when it's time to get rid of it, these planet-conscious homeowners want to do the best they can to recycle a large amount of material.
Industry professionals have worked hard to develop ways to recycle and reuse synthetic turf so that its lifespan can be extended beyond the initial installation. Nearly all artificial turf materials can be recycled. Still, if you were not the homeowner that ordered the artificial turf installation years before, you may be surprised to learn your predecessor selected an option that is more difficult to recycle. In these rare cases, you can contact the manufacturer to see what your options are for recycling as much of the material as possible.  
Materials Used in Artificial Turf
Artificial turf has several components—the turf itself, , the primary backing, occasionally padding, and infill. Each component consists of unique materials.  
Like most recyclable objects, artificial turf is not 100% recyclable but has many parts that can be recycled. Knowing what is in your turf can help you ask the right questions of recycling facilities to see how and where to send your turf.
Artificial turf is generally made out of one of three materials:
Nylon

Polyethylene

Polypropylene
. . . All of which are welcomed in recycling facilities. 
Artificial turf infill and padding, on the other hand, tend to be made of:
Latex

Polyurethane

Sand

Fabric

Glue

Rubber
Some of these may be recyclable, while others are not. Keep your materials list safe so when it comes to recycling your turf, you have a plan of where to send it. 

How to Recycle Artificial Turf
The synthetic turf industry has worked hard to find solutions other than the landfill when artificial turf runs its course. Today, many facilities exist for just this purpose. Sometimes, manufacturers even use discarded artificial turf in new artificial turf.
The Recycling Process for Turf
Recycling artificial turf involves converting it into usable materials. Recyclers separate all components. First, all plastics are isolated. They get cut, melted, and molded into pellets. These pellets then make up new products, from manufacturing supplies to carpeting for homes. 
Recycling Your Turf
Depending on your area, recycling can be simple — or it may take some more consideration and planning.
Before you tear up your turf and tossing it in your blue curbside bin, check with your local recycling center to see if they can accept and recycle artificial turf. This step will keep the turf out of the landfill. If they can take it, find out if they pick up or you need to drop it off.
If your local recycling center won't take it, contact a nearby synthetic turf company. They will know who can recycle the turf, and they can even help you remove and get the turf sent off to the right place. These pros can also help you identify if parts of your turf may be reusable. 
Contact the Artificial Turf Recycling Pros in Sacramento
If you want help finding a recycling solution in your area, contact the artificial turf experts at SYNLawn Sacramento. From choosing the right synthetic lawn and installation all the way through to removal and recycling needs, SynLawn Sacraments helps homeowners and commercial property managers find environmentally friendly solutions. Get started today with installation or recycling questions by filling out this contact form or calling 888-507-TURF.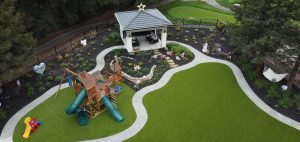 At SYNLawn Sacramento, our artificial grass has come a long way from the 70s and is presently a highly realistic alternative for traditional grass in Sacramento, CA. At times, it can even be difficult to tell at first glance whether or not our SYNLawn synthetic grass is actually synthetic. Our team takes great pride in…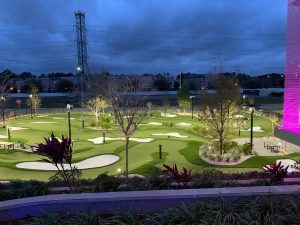 Practicing your short game has never been easier than with the revolutionary Sacramento putting green turf from SYNLawn. Never before has it been easier to enjoy your favorite from the comfort of your home while improving your golf scores. Nearly 80% of shots are lost to par in the short game (125 yards around the…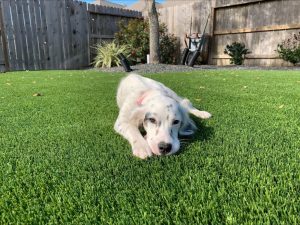 SYNLawn understands the role that pets play in our lives. As a result, we knew we had a responsibility to create Sacramento artificial grass specifically for them. We designed fake grass for dogs to accommodate all of your landscaping needs as well as provide your pet with the safest and cleanest surface to play on.…