Whether it's in their backyard or on an 18-hole course, golfers love to spend time practicing their game. There are so many ways to do so too, from backyard putting greens to municipal driving ranges to private country clubs. Many golfers of all ability levels have turned to artificial turf to create a practice space at home, and some are even shifting to enjoy a full round on artificial turf as well. As synthetic turf has changed and adapted to consumer needs, artificial turf for golf has become more popular with golf course superintendents and golfers alike. 
Why
Artificial Turf for Golf
is So Popular
Because the technology used in artificial turf for golf has evolved, its popularity has grown across the country. There are many reasons for this. Among the other advantages of synthetic grass, artificial turf makes for a game some golfers prefer. Turf has many benefits that make playing golf more enjoyable and give golfers and golf course maintenance teams more time to spend golfing instead of caring for the turf.
Good drainage
When installed properly, artificial turf has good drainage. This means that water won't pool on the surface of the turf, which can make practicing your golf game less fun. Limited muddy patches or standing water allows the ball to roll more easily, helping you continue playing the game you love. Turf putting greens are designed to drain off the main surface to keep them playable and able to be practiced on shortly after a rain.
Smooth, consistent surface
Artificial turf offers a smooth, consistent surface for backyard practice putting greens and indoor clubhouse practice areas, among other artificial turf applications. Country Club like speeds can be maintained and exact practiced techniques can be ported to the course–don't just practice, but practice well!
Reduced water consumption
When you install sustainable artificial turf, a huge benefit is the reduced water consumption compared to grass. You don't need to water your turf, saving money and water on irrigation costs. The only water use with artificial turf is to clean off any dirt or debris that collects on the turf. 
Fewer maintenance needs
Unlike a professionally maintained course, an artificial putting green allows for greatly reduced watering, and minimal maintenance overall with artificial turf. You won't need to buy seed or fertilizer, or mow. You will have fewer if any weeds to pull. Just keep the turf clean by rinsing or cleaning specific spots. Save time and money in the long run on these maintenance costs!
Durable
One of the primary benefits of golf turf is its durability. With durable turf, you won't need to replace or repair turf for years to come. When it's installed properly, turf can get more than a decade of use, with just minor maintenance. This means you, or your golf guests, can enjoy round after round of practice and play on artificial turf for golf. 

Making the Switch to
Artificial Turf for Golf
Because of how popular it is with golfers and golf course managers alike, artificial turf can be an easy choice for many avid golfers or golf courses. 
Both backyard putting greens and private or public golf courses interested in turf installation should consider the different types of artificial turf for golf. There are a few options for putting greens, which can be used in backyards and at practice greens both indoors and outdoors at golf courses. There are also options for fairways, driving ranges, and clubhouse spaces. Some of the differences in the turf options include:
When installing artificial golf turf and putting greens, it's important to ensure it is done correctly. This helps with both the way the turf looks and the way it plays when you get out with your putter. A properly installed putting green practice area in the backyard can increase your property value as well. You can DIY your installation, and it might take you just a few weekends to ensure it looks great. If you'd rather be on the course, you can hire professional installers to help with the home-based putting green project.
If you are ready to start the conversation around selecting the right artificial turf for golf and putting greens, the experts at SYNLawn Sacramento are here to help. We can guide you through options and help you fit the one that matches the look and feel you are going for. Whether you are selecting golf turf for a residential putting green or a commercial course, SYNLawn has a selection of golf turf that can meet your needs. Fill out this contact form to get started on creating a golf practice area of your dreams.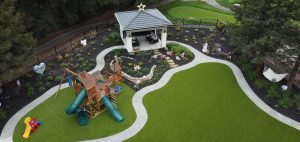 Artificial playground turf from SYNLawn Sacramento is changing the way we and others design playgrounds in Sacramento, CA. A trip to the playground is a fantastic way for kids to unwind, explore, and hang out with friends. As parents, we enjoy seeing our kids play and just be kids. Unfortunately, we are also aware that…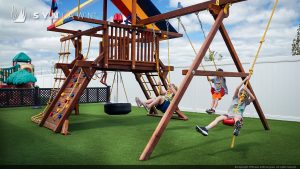 Making playgrounds in Sacramento, CA is simple with artificial playground turf systems from SYNLawn Sacramento. Playtime is meant to be a carefree and fun experience. At SYNLawn Sacramento, we aim to ensure this is the case for all playgrounds and play areas in the Sacramento area. Our SYNLawn synthetic playground grass is manufactured with plant-based…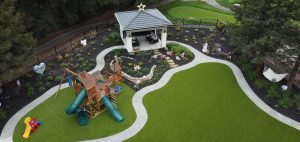 At SYNLawn Sacramento, our artificial grass has come a long way from the 70s and is presently a highly realistic alternative for traditional grass in Sacramento, CA. At times, it can even be difficult to tell at first glance whether or not our SYNLawn synthetic grass is actually synthetic. Our team takes great pride in…