Safety is always the number one priority when it comes to your kids. When selecting the perfect play set, you're considering safety more than anything else. So why not put the same concern into selecting what surface a playground will sit on? 
Most playground injuries occur as a result of a fall on surfaces that are abrasive, hard or in general unsafe. That's where the SYNLawn Playground System comes in to solve the problem. Having developed the safest, most consistent synthetic grass for playgrounds, our system is designed for all types of equipment and can protect children from falls as high as 10-feet under the accordance with IPEMA standards and CSA approved fall attenuation.
It can be difficult to choose the right surface for your children's playground, but the SYNLawn Playground System is the only playground surface to offer consistent safety standards, even in high traffic areas, in any weather conditions and at any height, and can be used under all types of play equipment. We offer a variety of artificial grass types that are suitable for various residential and commercial areas, but the following are perfect for your children's playground area. 
1. SYNAugustine X47
Representing the next generation of artificial grass technology, SYNAugustine X47 (SAX47) mixes soft, yet dense Omega-shaped multi-colored grass blades to create a gorgeous, unique variety of synthetic turf. Weighing in at a 100 oz face weight, this artificial grass variety rises above the competition with its unmatched softness and durability. Multi-color grass blades and a dense tan thatch combine to offer a leading contender in its weight class. As part of the X-series of the SYNAugustine line, SYN Augustine X47 is a lightweight, eco-friendly, low-maintenance, and durable option ideal for children's playgrounds and high foot traffic areas. 
2. SYNPlay
The industry standard in playground safety, SYNLawn's IPEMA safety certified SYNPlay adds an 8 mm pad to our artificial grass for additional built-in protection from falls during playtime. Common playtime injuries are many times radically reduced with fewer kids needing to take a timeout and having to see a nurse. As one of our highest-rated turf types for foot traffic, resiliency and softness, it's easy to see why the SYNLawn Play System using SYNPlay has become the choice among those in the childcare industry. 
3. SYNTipede 343
Excellent performance and natural beauty place SYNTipede 343 (ST343) at the cutting-edge of artificial grass technology. This durable synthetic sod features a medium pile height with superior strength and toughness making it an exceptional choice for high foot traffic areas requiring the appearance of natural grass. Recommended for multiple applications including playgrounds, pet areas, rooftops, lawns, and landscapes, this IPEMA certified turf is by far one of our most realistic options for children's playgrounds. 
4. SYNRye 200
SYNRye 200 (SR244) has come to be known for its extreme reliability and performance over the years. This sod type offers a shorter pile height than most of our other product choices, but with all the same benefits including vibrant field green and lime grass blades and dense tan thatch made of nylon for long-lasting beauty. This artificial grass is ideal for high foot traffic and works well for even the most demanding applications including rooftops, pet areas, playgrounds, golf fringe and chipping areas as well as any lawn and landscape application.
5. SYNLawn Classic Pitch
An upgraded version of our classic putting surface, SYNLawn Classic Pitch (CPITC) is slightly taller and heavier in face weight for better ball roll performance and lasting endurance. Originally intended for golfers seeking consistent ball roll, the Classic Pitch turf has become one of our number one sellers for children's playgrounds because of its remarkable durability and resiliency. Made from 100% nylon with Heat Block Technology and UV stabilizing yarn, this artificial grass stays cool and vibrant year-round and requires little to no maintenance making it the perfect choice for a playground surface.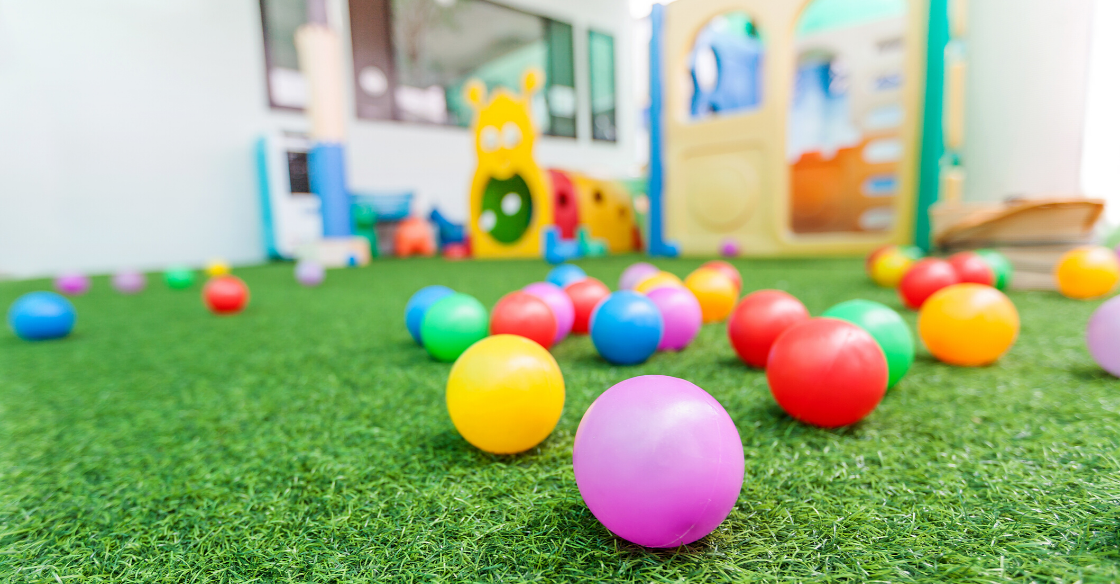 Selecting the best material for the surface of your children's playground can make or break playtime… literally. The surface that your children play on can either cause or save them from those pesky bumps, bruises, and scrapes. Choosing a durable and low-maintenance artificial grass is the perfect alternative to traditional playground surface materials such as gravel, sand, and wood chips. If you're interested in learning more about SYNLawn products or professional artificial turf installation, give us a call at 206-785-2897 or request a quote for your project here.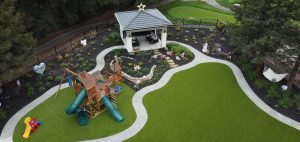 At SYNLawn Sacramento, our artificial grass has come a long way from the 70s and is presently a highly realistic alternative for traditional grass in Sacramento, CA. At times, it can even be difficult to tell at first glance whether or not our SYNLawn synthetic grass is actually synthetic. Our team takes great pride in…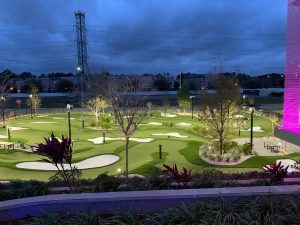 Practicing your short game has never been easier than with the revolutionary Sacramento putting green turf from SYNLawn. Never before has it been easier to enjoy your favorite from the comfort of your home while improving your golf scores. Nearly 80% of shots are lost to par in the short game (125 yards around the…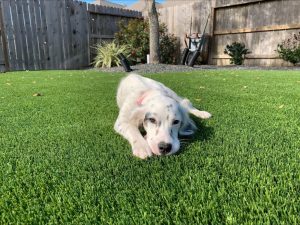 SYNLawn understands the role that pets play in our lives. As a result, we knew we had a responsibility to create Sacramento artificial grass specifically for them. We designed fake grass for dogs to accommodate all of your landscaping needs as well as provide your pet with the safest and cleanest surface to play on.…