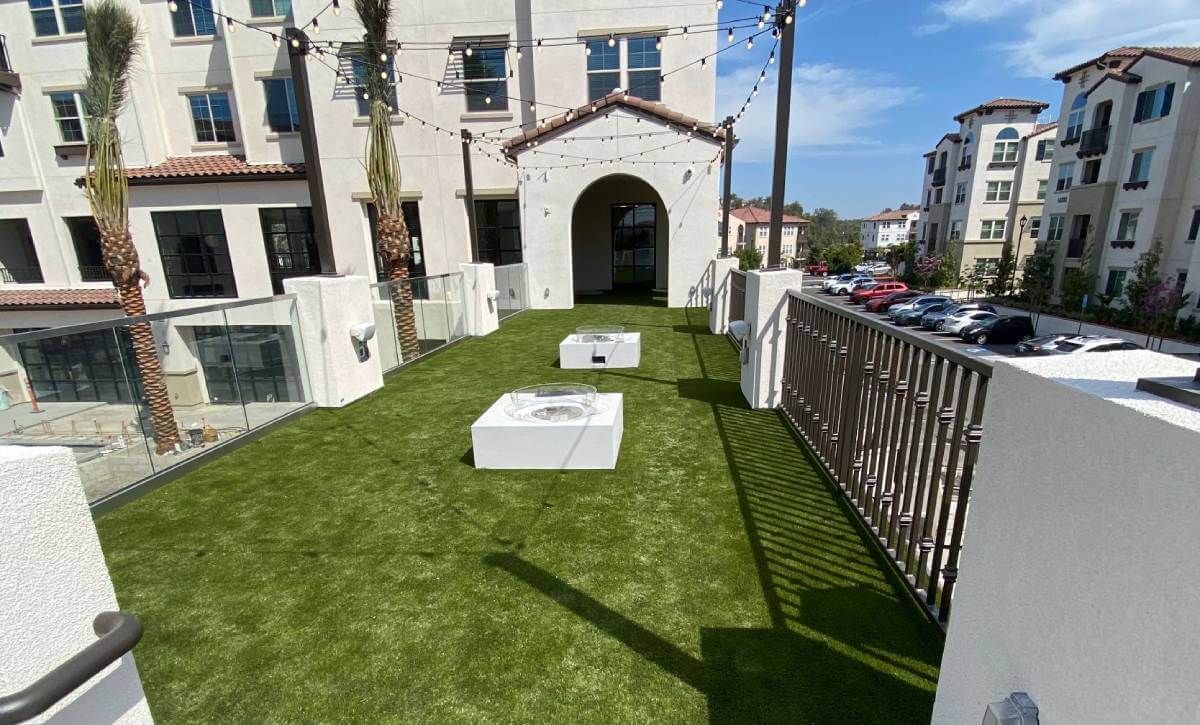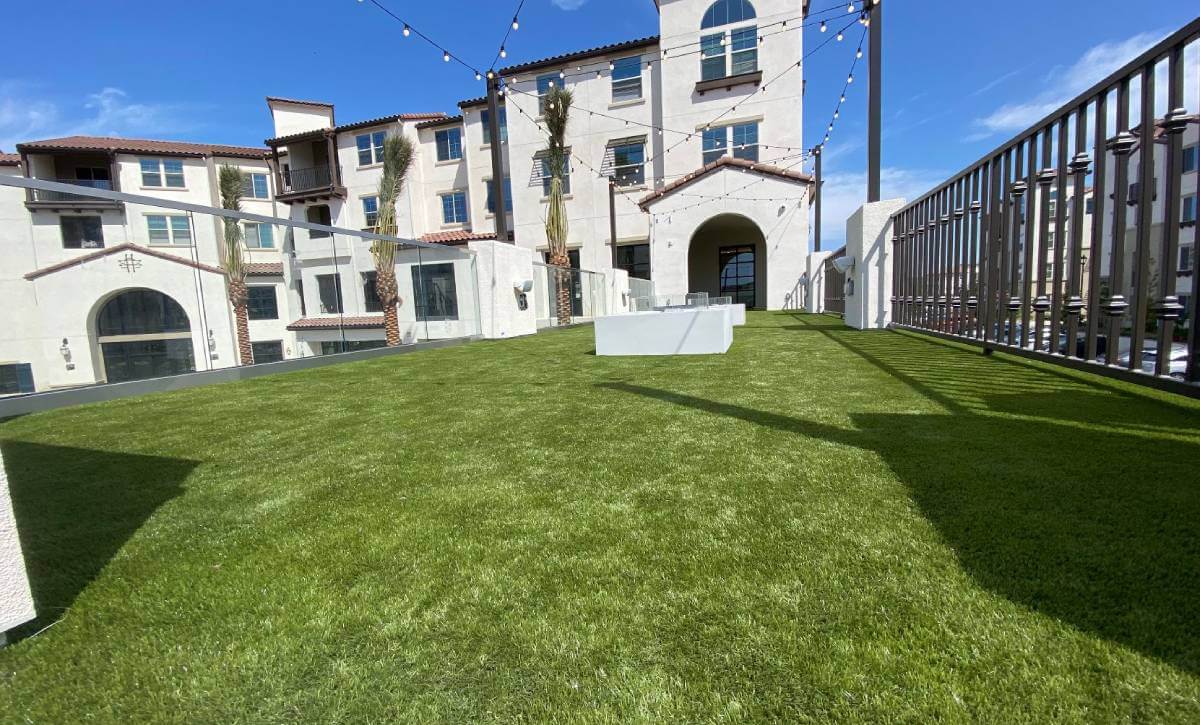 Products Used: RoofDeck Platinum - Class A Fire-rated/warrantied against melting from reflective light
Located in Otay Ranch, just minutes from Downtown San Diego, The Club at Enclave takes apartment living to the next level. This complex provides a feeling of belonging and relaxation, expansive views, and premier amenities year-round. Our work with The Club at Enclave includes the installation of our state-of-the-art RoofDeck Platinum. Our project features a rooftop balcony with a beautiful fire pit seating area providing the highest safety standards and durability.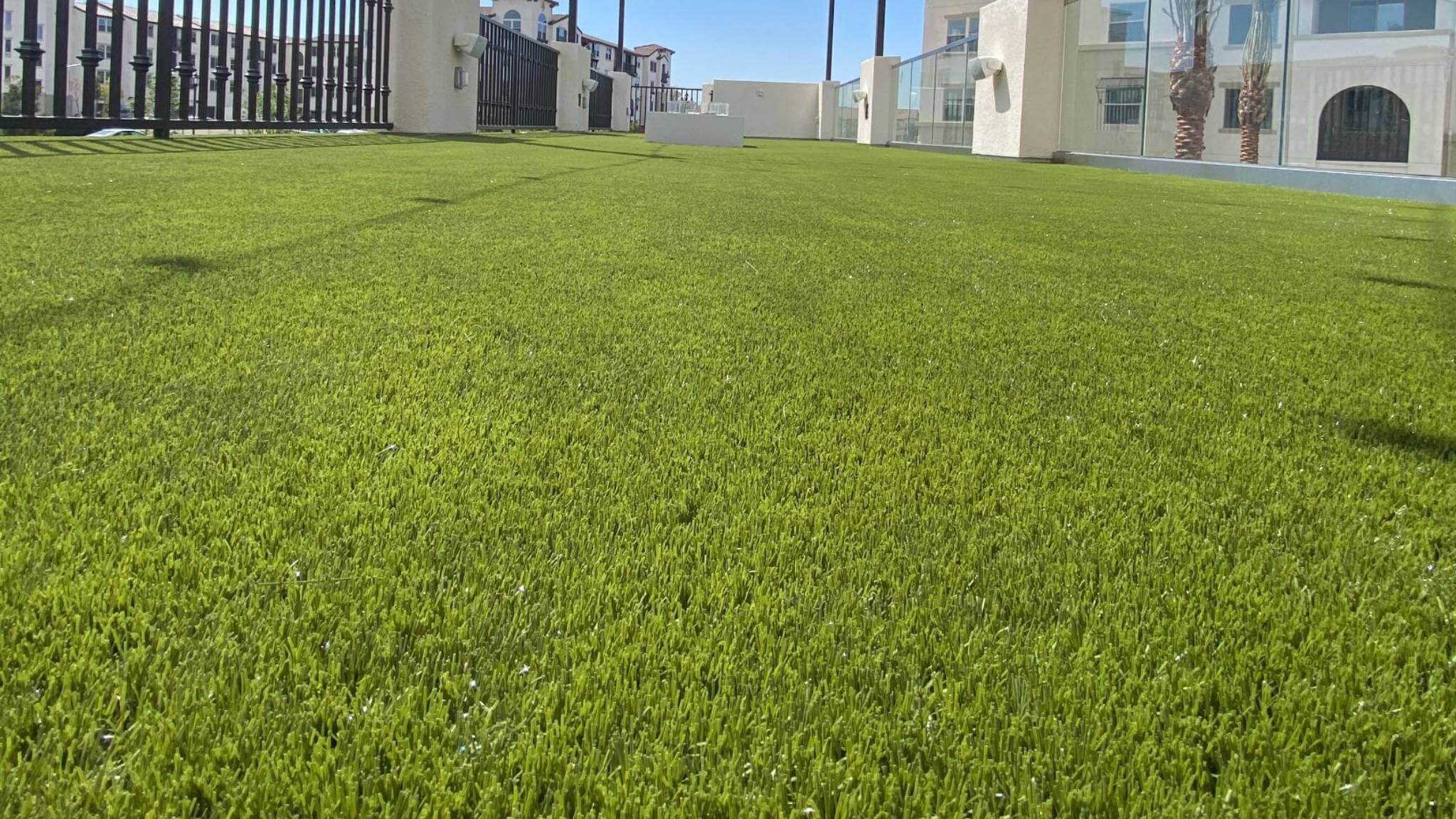 RoofDeck Platinum is the ultimate artificial grass for roof, deck, and patio installations. Its nylon fibers provide a high melt resistance against window reflectivity and boasts the highest fire safety rating available in our industry. ASTM certified E108 Class A Fire-Rated, ASTM E648, F1292, and F1951 certified. RoofDeck Platinum is the first artificial grass to carry a Class A fire rating that does not require an infill thanks to the combination of both EnviroLoc™ and HeatBlock™ technology. Architects and landscape designers utilize SYNLawn® RoofDeck Platinum in locations where weight and safety are a concern, such as urban rooftops, decks, patios, and heavy foot traffic areas.
Safety is a top priority in an apartment complex. Meeting proper fire safety standards especially on rooftops made it vital for us to install this product to ensure that The Club's residents are looked after and protected. RoofDeck Platinum meet all of the necessary criteria to receive the top fire-safety ratings available including ASTM E108 Class A. This rating means that the burn drastically slows down, giving firefighters an extended time window to arrive at the complex and extinguish the blaze. These products offer high resilience and are warrantied against melting from light reflections and minimize critical injury as well as property damage. Furthermore, RoofDeck Platinum brings additional safety to the table with its IPEMA certification, protecting against common injuries and falls up to 10 feet. This ensures that The Club at Enclave's guests of all ages are covered in as many ways as we can provide. Finally, our made-to-last products come standard with the industry's longest manufacturer's warranty for any melting that may occur.
HeatBlock™ technology is the difference you can feel. Where other artificial grass products fall short is their temperature control. SYNLawn® exclusive HeatBlock™ technology lowers surface temperatures by reflecting sunlight, and as a result reduces heat build-up and thermal emissivity. This incredible technology is scientifically proven to provide up to 20% cooler surface temperatures than any other artificial grass product in the industry. Reflecting sunlight plays a large role in what makes both RoofDeck Platinum the optimal artificial turf product for rooftop installations and other installations that reside in direct sunlight.
Furthermore, SYNLawn®'s one-of-a-kind EnviroLoc™ backing system aids to enhance the lifespan of every Sacramento artificial grass installation. The proprietary EnviroLoc™ backing system from SYNLawn® is a multi-layer component system that "locks-in" durable grass fibers, extending the product's life cycle. This USA-made component takes an environmentally friendly approach to its design and is made from materials sourced with the help of our partnership with local soy farmers. EnviroLoc™ helps to conserve large amounts of water all year long as well as provide optimal draining for wet climates, making our artificial grass ready for near immediate use even after rainfall. This backing system also makes our installations ADA compliant, preventing the turf from shifting on impact.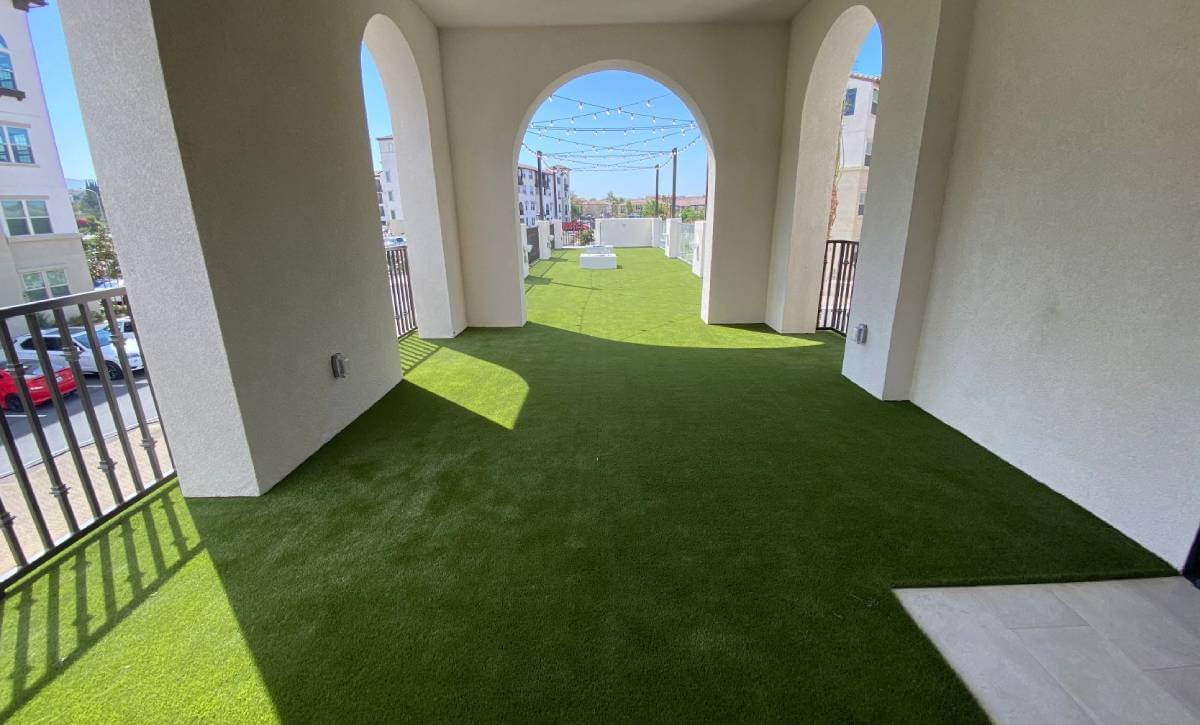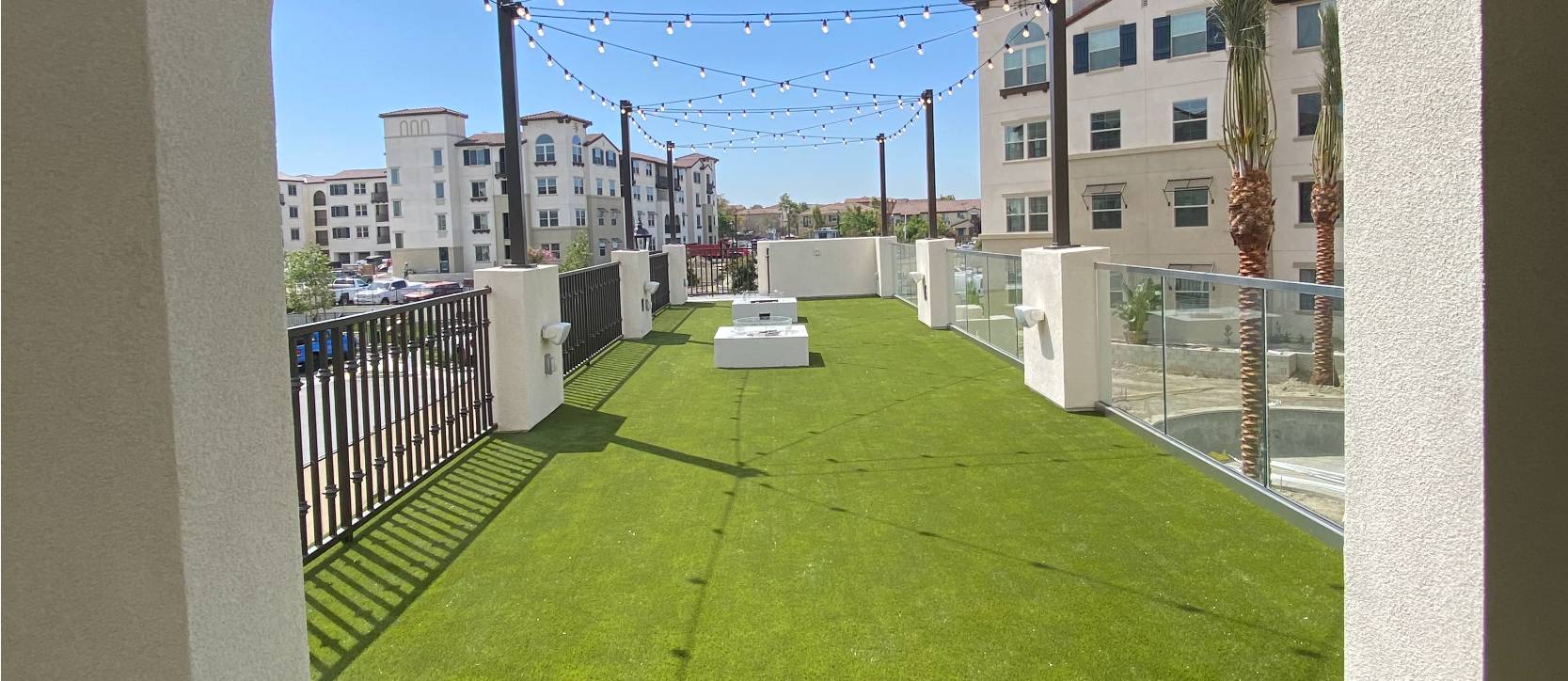 Our customers love SYNLawn® for commercial applications because of the money they save, the lack of maintenance, incredibly high safety standards, and our eco-friendly approach to artificial grass products.
Regardless of your project, SYNLawn® will work with you to help make all of your specifications a reality.
We provide the most realistic, highest-quality artificial grass Sacramento has to offer and have worked on an outstanding number of projects across the west coast and throughout the country.
SYNLawn® is the only company to offer a long list of USDA-certified bio-based products that not only help the environment but last throughout every season and remain lush and vibrant for many life cycles.