The Courtyards Pacific Village Apartments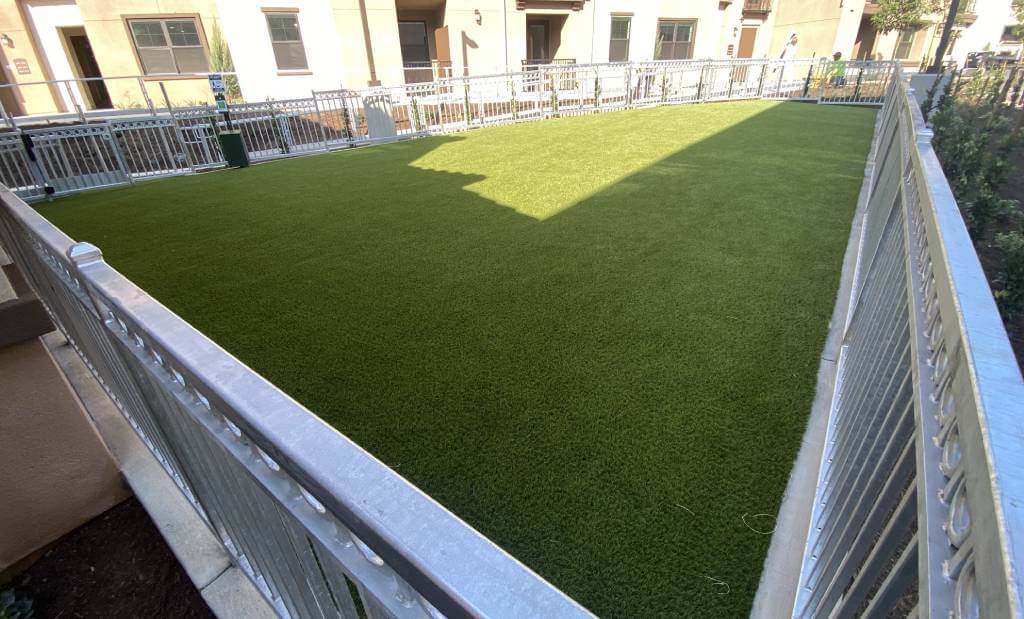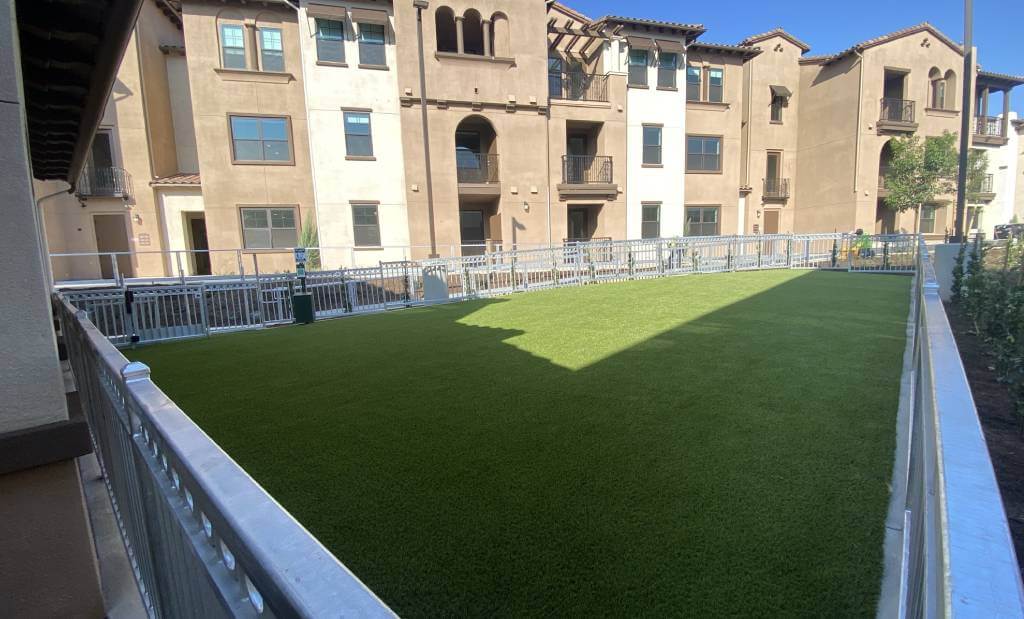 The Courtyards Pacific Village Apartments
The Courtyards Pacific Village Apartments
Square footage: 1,200 square feet
Product Used: SYNFescue 343
How Long it Took to Install: 3 days
Pacific Village's brand-new dog park installation is now fitted with the industry's most durable and pet-friendly artificial grass from SYNLawn®.
SYNFescue 343 offers superior durability, hyper-realism, and eco-friendliness for a price that you will love.
SYNFescue 343 features many unique benefits that make this artificial pet turf perfect for any pet-friendly installation. SYNFescue 343 provides the highest dimensional strength, incorporating some of our proprietary technologies such as our Super Yarn™ turf yarn technology.
This Sacramento artificial grass solution also features our soy based EnviroLoc™ backing system which provides our pet turf with unrivaled resilience against digging, high activity, pet odors and more. All of these technologies work together to withstand active pets as well as extreme weather conditions so our pet-friendly lawns can be enjoyed all year long.
SYNFescue 343 is IPEMA certified making it safe for children and is made in the USA with plant-based materials to ensure that it is safe for pets of all sizes.
Our non-abrasive surfaces prevent common injuries and protect against falls of up to 10 feet. SYNFescue 343 is optimal for pet areas, residential and commercial lawns, playgrounds, and more.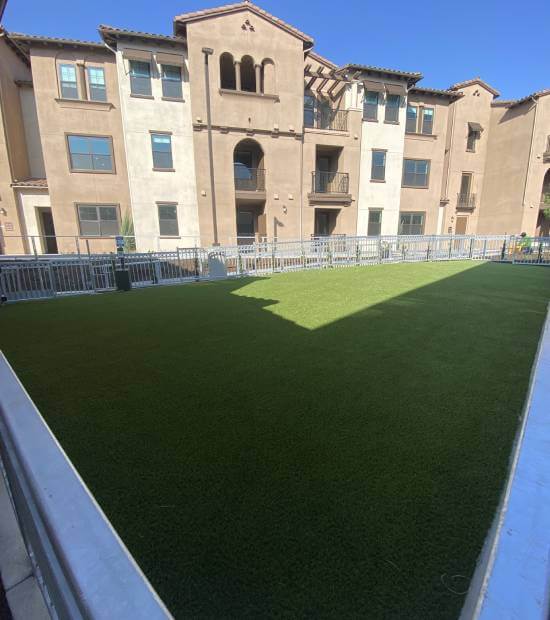 SYNLawn® has more than 50 years of research and development behind its turf technologies and product features, setting us apart from all other competitors.
For example, our Super Yarn™ technology is the first fifth-generation technology of its kind presented to the market to provide the cleanest and safest synthetic grass surface.
Sanitized® Antimicrobial - removes pet odors and up to 99% of bacteria from turf surfaces as well as prevents the growth of bacteria and mold
DualChill™ IR Reflective Technology - lowers surface temperatures to protect paws in the summertime and protects surfaces from fading under direct sun exposure
StatBlock™ Anti-Static - prevents the buildup of static electricity from the turf surface to provide more comfortable lawn surfaces
This SYNFescue 343 installation features two environmentally friendly components that aid in the durability and cleanliness of Pacific Village's new dog park.
First, EnviroLoc™ is our two-part woven backing system that is made from plant-based materials including soybean oil.
With the help of US soy farmers, we were able to remove the majority of petroleum-based materials from our products and replace them with recyclable materials that extend the lifespan of our products and reduce our impact on local landfills. EnviroLoc™ prevents shedding and tearing by securing turf yarns in place.
This means that your pets and other rodents won't be able to dig holes in our artificial grass and our grass won't tear on impact.
Second, Envirofill® is an acrylic-coated sand infill that is free of harsh chemicals and metals designed to prevent stains and odors caused by ammonia from pet waste.
Envirofill® is infused with an effective antimicrobial by Microban® which helps to further eliminate bacterial growth from our artificial pet turf, preventing your pets from getting infections.
Envirofill® and our Super Yarn™ technology work cohesively together to ensure that our pet turf installations remain stain and odor-free for years to come.
Our EnviroLoc™ backing system also provides optimal drainage so urine, rain, and other liquids are unable to pool on the turf. EnviroLoc™ also works to hold the Envirofill® infill so it doesn't wash out immediately after contact with any liquids. This ensures that our dog run turf installations provide residents with a clean and enjoyable surface for the long term.
SYNLawn® provides highly efficient synthetic grass solutions that help minimize our carbon footprint and promote water conservation.
The extended life expectancy and recyclable features of SYNLawn® artificial grass products help decrease landfill impact, remove emissions from lawn care instruments, and conserve water resources.
Whether you are looking to build a dog park, build a new playground, renovate your backyard, or install a putting green, SYNLawn® Sacramento can help you make the most out of your landscape.
We are proud to work with industry experts, commercial properties, residential homeowners, and many others. After switching to SYNLawn®, our clients save time and money on maintenance and expensive water bills year after year.
No longer will you have to clean up after muddy paws, fill holes in your yard, or spend money on lawn equipment or maintenance crews.
We work closely with industry experts such as landscape architects, landscape designers, architectural firms and real estate developers, pool builders and more, to create immaculate commercial and residential landscapes.
SYNLawn® Sacramento has the capacity as a general contractor to handle any-sized project from start to finish.
Our team of highly skilled artificial grass and putting green installers get the job done efficiently with precision to ensure that you or your customer's installation is of the upmost quality.
SYNLawn® is honored to work closely with many industry experts such as:
SYNLawn® is proud to provide unmatched customer service and expert installations that meet all of your specifications. No matter the size of the job, we work around the clock to ensure that your landscape vision becomes a reality. For more information on the most technologically advanced artificial grass in the industry, contact SYNLawn® Sacramento today to schedule a free consultation!