Orangevale Artificial Grass Installation for Residential and Commercial Landscapes
SYNLawn provides commercial and residential property owners with the most-realistic artificial grass Orangevale, CA has to offer. We offer eco-friendly grass alternatives engineered with the latest cutting-edge turf technologies to create artificial grass that surpass our competitors. For more than five decades, we have dedicated our time to research and development to ensure that we continue to deliver the safest, cleanest, and greenest landscapes.
Super Yarn™ technology: the first of its kind molecularly bound yarn formula to incorporate plant-based materials with advanced turf technologies
Sanitized® antimicrobial eliminates 99% of bacteria from surfaces
DualChill™ IR reflectivity to protect the turf from fading and absorbing heat
StatBlock™ antistatic prevents the accumulation of static electricity
EnviroLoc+™ backing system prevents shedding and extends the lifespan of SYNLawn Sacramento artificial turf installations
Maximum drainage allows for use as soon as water contact is made
HeatBlock™ technology provides significantly cooler surfaces
Omega™ Technology provides long-lasting blade integrity
Offers products backed by the strongest warranty against reflective light
Made in the USA with recyclable and eco-friendly materials
ASTM E108 Class A fire-rated products
The ONLY distributor of USDA-certified products with plant-based content ranging from 60% to 80%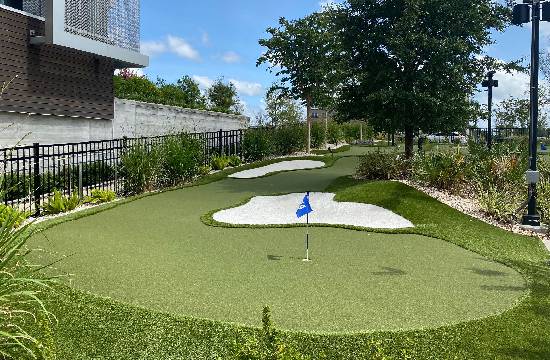 We work closely with US soy farmers to locally source materials including sugar cane and soybean oil so that we can remove and replace significant amounts of petroleum and other environmentally harmful materials from our turf. Additionally, we manufacture all of our Orangevale synthetic grass from our own manufacturing facility in Dalton, GA. This allows us to control the quality of every product we manufacture and ensure that they meet our exceptionally high quality and environmental standards.
Orangevale, CA Putting Green Installation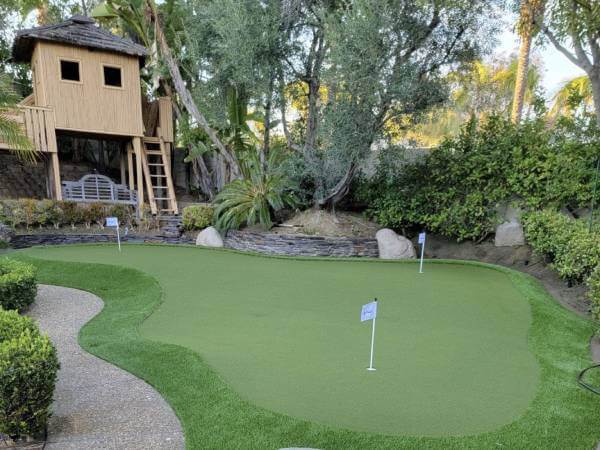 Orangeville putting greens from SYNLawn can be installed in virtually any indoor or outdoor environment. They are fully customized to fit just about any space with the option to add sand traps, bunkers, LED cup lights, custom flags and more. We are proud to collaborate with the legendary golf coach Dave Pelz, to design and install PGA-caliber golf greens in Orangevale, CA that offer the same performance and durability of your favorite courses.
Realistic putt with a very true ball roll and ball bounce
Extremely durable surface to chip on
Water is unable to settle beneath the putting green turf and wash the base out
Effective drains in each cup prevent the backfill of water and mold
Ability to fully customize all the features of your dream backyard putting green
Engineered by an ex-NASA engineer to imitate natural grass as close as possible
Monthly payment plans and financing options
The Safest and Cleanest Pet Turf in Orangevale, CA
The level of care you wish to provide your pet should be complimented by the appropriate atmosphere in which they can play and relax. SYNLawn provides the highest quality synthetic grass for pets in Orangevale, CA. Orangevale pet grass is not only long-lasting, but also highly comfortable, safe, and appealing. Unlike traditional grass, SYNLawn pet systems never lose their charm. You will no longer have to worry about your grass being dead, full of mud, unpleasant, or unattractive as a result of holes dug and pet waste.
Benefits of SYNLawn Sacramento pet turf include:
Natural look and feel
Enhanced durability under heavy activity
Odor control through the incorporation of Envirofill™
Stain-resistant and very easy to clean
No brown spots caused by pet waste
Prevents moles and gophers from destroying the lawn
Optimal drainage at a rate of 90 inches per hour
No dirt or mud to be tracked into your home
Added security upgrades available for destructive dogs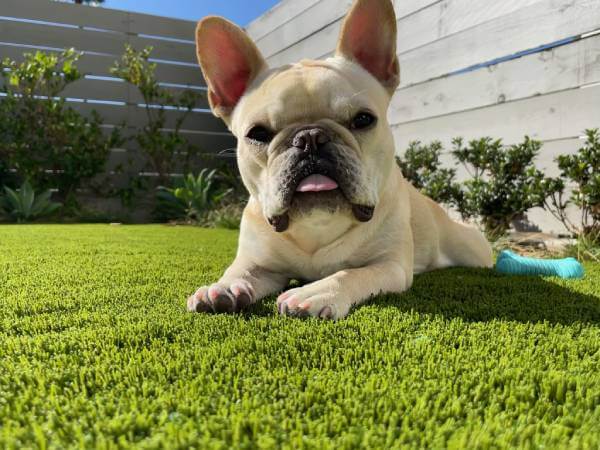 Orangeville, CA Artificial Living Walls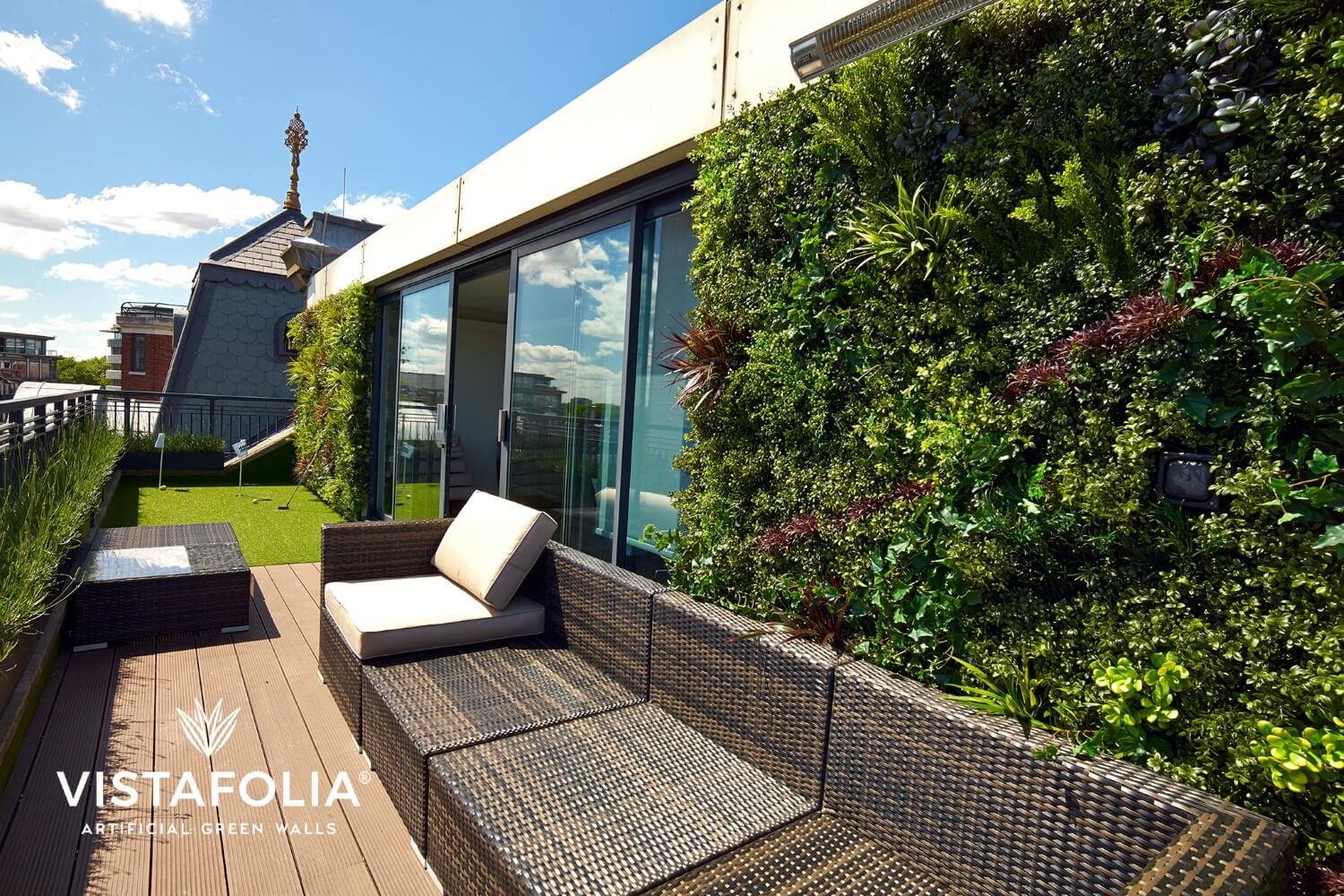 Artificial living walls can add life and vibrance to any interior design or landscape while requiring no additional maintenance. They are built to last, are resistant to harsh weather and UV light, and are meant to resemble real plants. Our vertical gardens, made from the most lifelike imitation foliage and ivies, are often times mistaken for real plants – just without the hassle of maintenance or expensive irrigation systems.
Indoor and outdoor designs
8 varieties of bright colors and lush textures to choose from
Lightweight panels designed to allow free movement of air
Unmatched realism: exact colors, shadings, and dimensions
UV-protection to minimize fading of outdoor installations
Customizable arrangements with a range of color boxes
Manufactured to ISO 9001 quality standards
No watering, trimming, or pruning required
Never fades in the sun
Allows for ambient noise reduction
Built to endure any weather conditions
Suitable for every project
Easy to shape, attach, and maintain
5-year warranty
Are you ready for a free consultation?
We take pride in providing all our customers with the highest quality synthetic grass to create vibrant and sustainable landscapes. We work closely with landscape architects, architects, general contractors, construction workers and more, to create the safest, cleanest, and greenest residential and commercial environments. If you are looking for the best artificial grass in Orangevale, CA, contact SYNLawn Sacramento today.
For more information on our artificial turf products and installation services, contact us to schedule your free consultation today!
Please fill out all mandatory fields with an astrerisk *
Your information will be held confidential with our company.