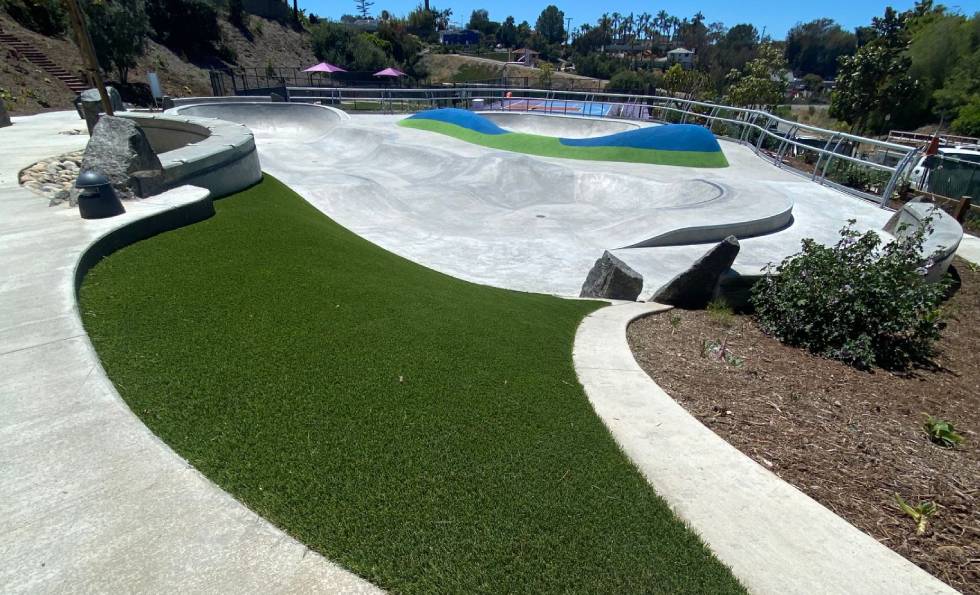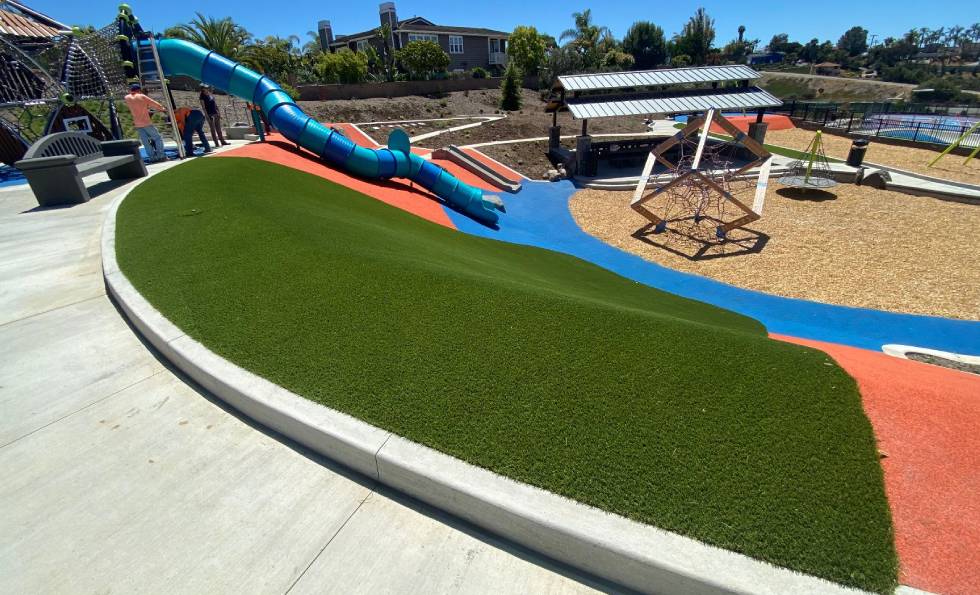 Total Square footage: 1,580 square feet
Product Used: Play Platinum
How Long It Took to Install: 4 days
SYNLawn® Play Platinum combines the hyper-realism of SYNLawn® Sacramento artificial grass, with the most advanced turf technologies and highest safety standards.
These features and benefits made it a perfect fit for the playground installation at Olympus Park in Encinitas, CA. Safety is the highest priority when designing a park or playground, and Play Platinum was designed for that specific reason.
This artificial turf playground solution is IPEMA certified and will help prevent common injuries such as those caused from falls of up to 10 feet.
To provide enhanced safety for our families, as well as protect against property damage, Play Platinum is ASTM E108 Class A fire rated and fully tested to meet fire codes. This fire-rating means that first responders have an extended time window from ignition to extinguish and contain the fire.
In addition, Play Platinum playground turf features two of our proprietary enhancements, Super Yarn™ technology, and our EnviroLoc™ backing system. These two key benefits play a large role in what makes SYNLawn® artificial grass superior in durability and performance.
Super Yarn™ is a first-of-its-kind turf yarn technology. This revolutionary formula combines three features that are molecularly bound together to create the clean, safest, and most resilient turf yarn on the market.
First, Sanitized® antimicrobial is added to remove pet odors and 99% of bacteria, as well as prevent the growth of mold and bacteria. Second, DualChill™ IR Reflective technology works to significantly cool surface temperatures and protect our artificial grass from fading, enhancing the integrity of our grass blades for the long-term.
Finally, StatBlock™ Anti-Static prevents the accumulation of static electricity through friction on the turf surface. This allows for safer and more enjoyable surfaces for families with kids and pets to enjoy all year long.
Schools, parks, and other kid-friendly facilities choose SYNLawn® Sacramento artificial turf because it provides unmatched realism, the greatest technological advancements, the lowest maintenance, and an unmatched limited lifetime warranty all at an affordable price.
Our artificial turf is the cleanest and safest available, eliminating mud and bacteria from the lawn. Furthermore, SYNLawn® Sacramento synthetic playground turf provides extremely high performance and resiliency in areas of heavy foot traffic and intense athletics.
Our proprietary Omega technology keeps turf fibers in their natural, up-right position and enhance the safety and realistic appearance of our synthetic lawns.
EnviroLoc™ is a SYNLawn® exclusive turf backing system made from soy-bean oil to become the most eco-friendly turf backing ever designed.
This multi-layer woven backing locks in turf fibers to prevent against shedding, tearing, and holes dug by animals, thus extending the lifetime of your Sacramento playground artificial grass installation.
Made from materials like sugar cane and soybean oil, we are able to largely reduce the utilization of petroleum-based materials in our products.
This utilization of renewable materials such as sugar cane and soybean oil, are how SYNLawn® was able to become the first artificial turf company to receive certifications from the USDA for using over 70% of bio-based materials within our turf.
Now our recyclable products can help to reduce the impact on local landfills.