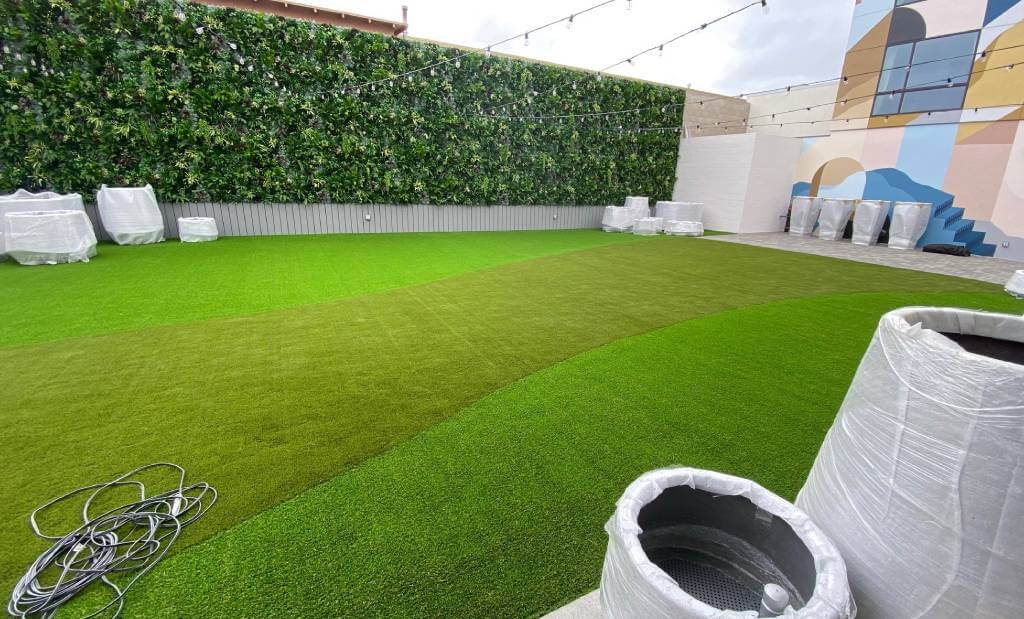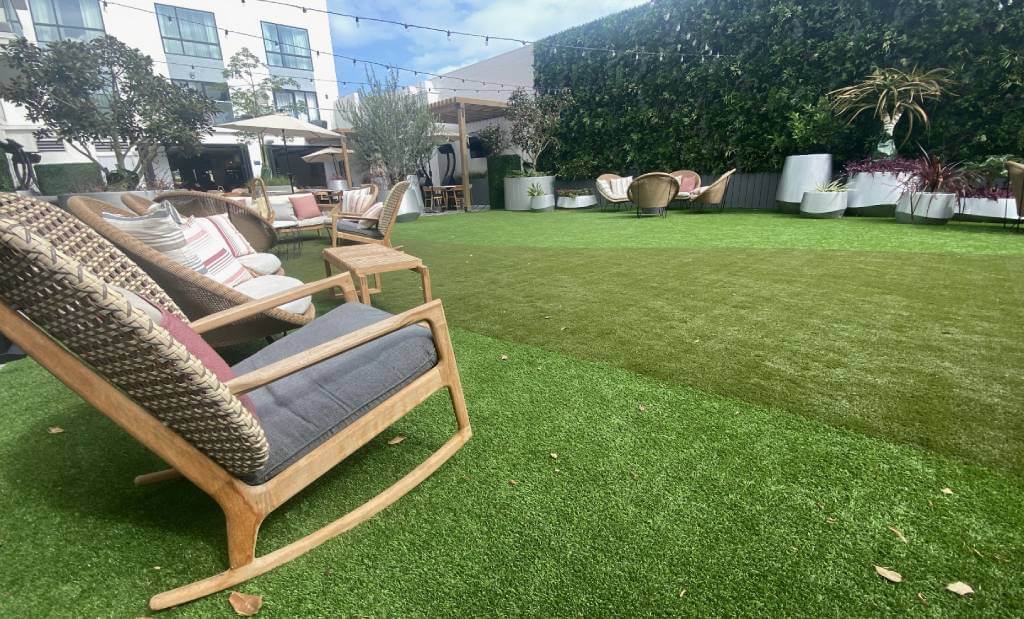 The Monsaraz San Diego, Tapestry Collection by Hilton™
Square footage: 2,500 square feet
Products Used: SYNRye 200 and SYNSport
How Long it Took to Install: 4 days
What was once a subterranean parking deck, the courtyard of The Monsaraz Hotel in San Diego has been reimagined into a beautiful lounge area with the help of SYNLawn® artificial grass.
The Monsaraz opened in June 2021 with the main objective of bringing people from across the world together in an artful way. The new courtyard exemplifies the independent spirit of The Monsaraz while remaining true to the Hilton's portfolio of 65 original hotels.
The colorful personality of The Monsaraz invites visitors to dive into the immersive culture that San Diego has to offer. For this beautiful hotel, 2,500 square feet of SYNRye 200 and SYNSport were custom designed to provide a unique installation that offers unmatched safety, realism, durability, and performance all for an affordable price.
These two incredible turf solutions offer exclusive SYNLawn® technologies, exceptionally high safety standards, and enhanced resilience to heavy foot traffic.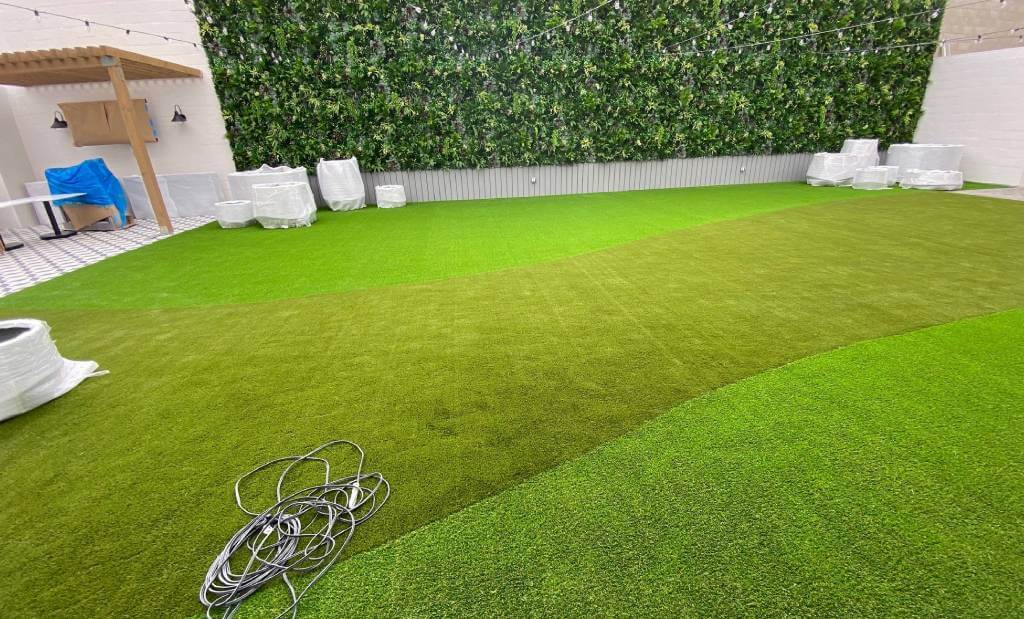 The Monsaraz Hotel is visited by guests of all ages on a daily basis, making safety a top priority for this installation. Thankfully, both SYNRye 200 and SYNSport meet the safety standards required for IPEMA certification.
Furthermore, SYNLawn® SYNSport helps minimize damage and injury caused by unpredictable fires by meeting the requirements to be ASTM E108 Class A fire rated.
Finally, although SYNLawn® installed two different artificial grass products, to be able to comply with ADA certification, we made sure to match their pile height to prevent a trip hazard and ensure the courtyard is wheelchair accessible.
Exclusive SYNLawn® technologies and unique features place our Sacramento artificial grass in a class of its own. Competing artificial grass brands can trap heat during the warmer months resulting in hot surface temperatures that can burn paws and bare feet.
SYNLawn® HeatBlock™ technology acts as a thermal shield, reflecting sunlight, to significantly lower surface temperatures. HeatBlock™ is scientifically proven to provide up to 20% cooler surface temperatures than any other competing turf brand.
HeatBlock™ allows you to enjoy your landscape year-round and protects your pets from burning their paws.
SYNLawn® is dedicated to creating products that promote environmental sustainability. This is why we make our turf fibers out of sugar cane and our EnviroLoc™ backing system with recyclable materials including soybean oil. With the help of US soybean farmers, we are able to remove up to 60% of petroleum-based polymers from our artificial grass. This feature expands the lifespan of SYNLawn® artificial turf and reduces the impact on local landfills. In addition, this exclusive backing system secures turf fibers in place to prevent them from shedding like traditional sod or turf products. EnviroLoc™ also provides optimal drainage to prevent flooding and continue to provide the soil below with the nutrients it needs to survive long-term.
Our customers choose SYNLawn® artificial grass because of how incredibly life-like it is, its unrivaled reliability, and our limited lifetime warranty. Our dependable and high-quality Sacramento artificial turf solutions are perfect for golf courses and putting greens, commercial landscapes, playgrounds, and more.
SYNLawn® artificial turf saves you time and money on lawn maintenance and water bills year over year. With our proprietary technologies and precision Sacramento artificial turf installation services, your installation will be sure to last for years to come.
Pets and other critters are not able to dig holes in the lawn, mud and flooded yards are eliminated, and children can play to their heart's content without the worry of common injuries that can occur during playtime.
Your unused rooftop space can be customized with our Sacramento synthetic grass and putting greens, opening up new possibilities for gatherings and events. We work closely with landscape architects, landscape designers, architectural firms, general contractors, construction companies, roof contractors and many more, to enrich environments with the cleanest, safest, and most sustainable artificial grass available on the market.
We work in collaboration with several industry experts and commercial institutions including:
SYNLawn® Sacramento provides unmatched customer service, precise installation services, and is committed to providing you with the best overall experience possible. For more information on our turf products or installation services, contact us today to schedule a free consultation!