Citrus Heights, CA Artificial Grass Installation
SYNLawn Sacramento is here to help eliminate traditional maintenance in Citrus Heights, CA with our artificial grass products and installation. Residents and businesses in the area love the time and money savings they achieve from the moment that their installation is complete. We make it possible for you to spend less time with the lawn mower and more time enjoying your luxury lawn. At SYNLawn Sacramento, our artificial grass is manufactured with plant-based materials that, with minimal upkeep, can last a lifetime. Our Citrus Heights synthetic turf is perfect for lawns, landscapes, putting greens, playgrounds, pet areas, and so much more!
Commercial artificial grass from SYNLawn Sacramento is a top choice for business owners in the Citrus Heights area. This is a direct result of the unrivaled quality, realism, performance, and durability that our commercial synthetic turf has to offer. Our SYNLawn Sacramento synthetic grass resists fading and heavy foot traffic while helping to conserve valuable resources year-round.
Overall, our SYNLawn synthetic turf provides exclusive benefits and technologies not found anywhere else in our industry, including the following:
Super Yarn™ antimicrobial yarn combines antimicrobial by Sanitized®, DualChill™, and StatBlock™ technology
Environmentally safe, made with recyclable components
Made with a plant-based, soy backing system called
EnviroLoc™ plant-based backing system
Super Drain+ allows for liquids to drain at a rate of up to 1,200 inches per hour
Delustered and UV protected, with weather resistance for long-lasting durability and realism
Odor-controlling top-dressing reduces odors caused by ammonia in pet waste
Fire safe and tested
Safer for children
Pet-friendly
Hypoallergenic
Made in the USA
Unmatched lifetime warranty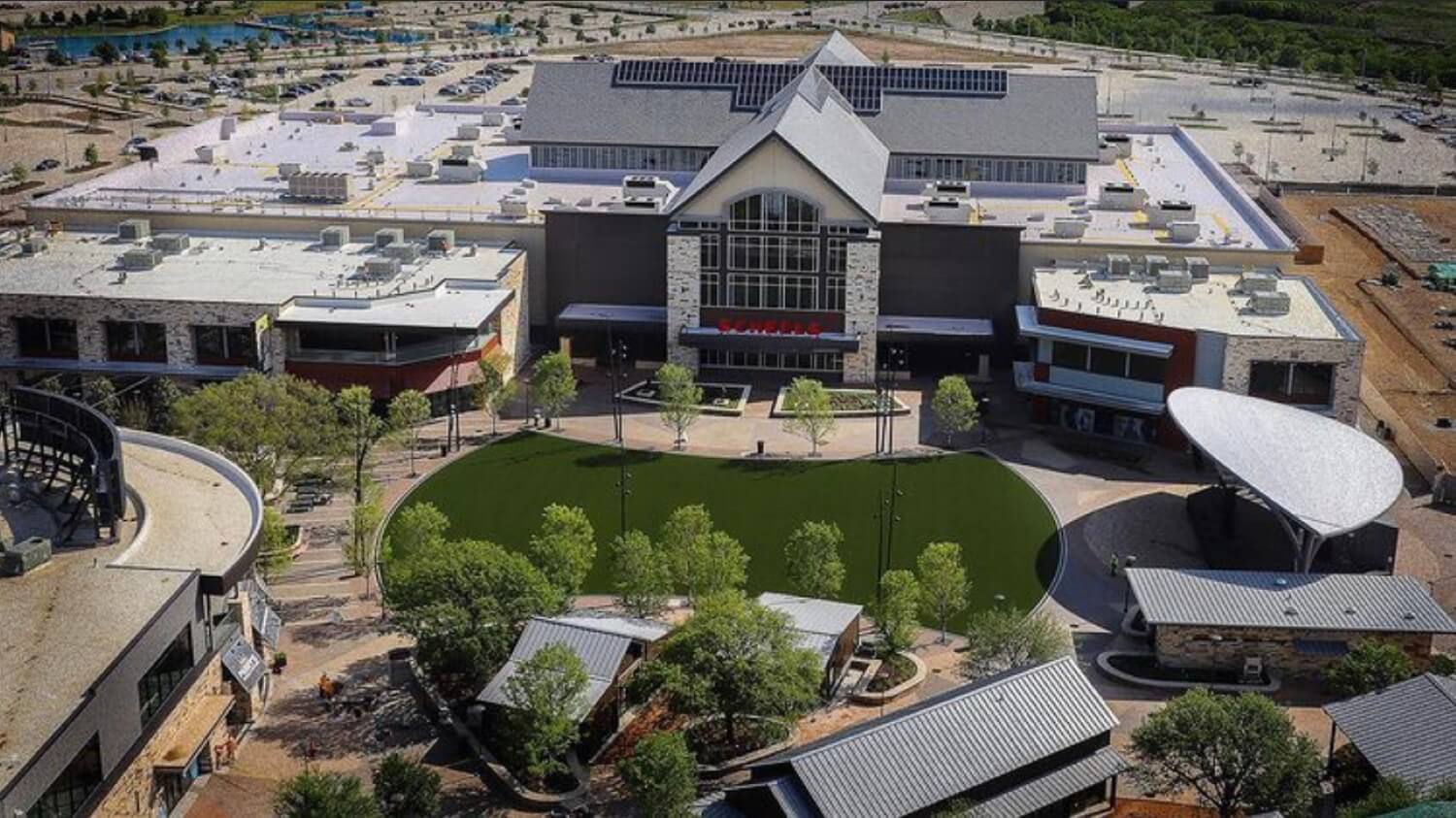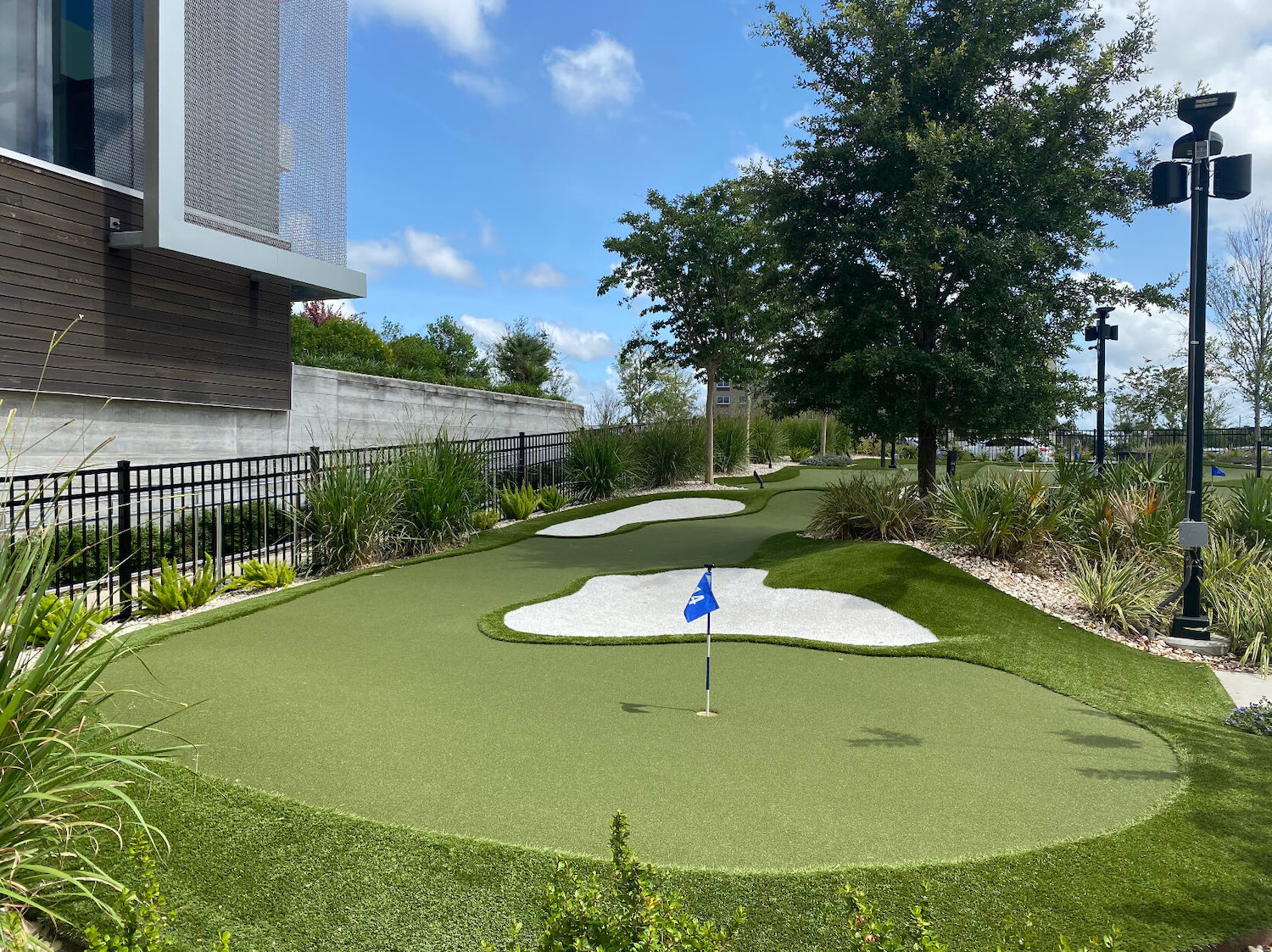 Designed in partnership with legendary golf coach Dave Pelz, our artificial golf turf replicates the realism of conventional grass as closely and performs – much like your favorite courses. Our SYNLawn synthetic golf greens can be utilized for indoor simulators, mini-golf courses, 18-hole experiences, and more. However, they can only be installed by our expertly trained GreenMaster™ installers to ensure that we provide the highest level of quality to each of our customers. In addition, we offer customization options with our artificial grass putting greens, such as obstacles, turf types for fairways, rough and fringe, and LED cup lights for a personal touch.
Additional benefits include:
Surfaces such as our PGA-caliber Precision Putt deliver a 12 on the Stimpmeter
Extremely durable chipping surface
Add a tee box that allows the use of real golf tees
Effective drains in each cup prevent backfill of water and mold!
The team from SYNLawn Sacramento loves pets, so we made sure that we manufacture the top choice for artificial dog and pet turf in Citrus Heights, CA and surrounding areas. We use exclusive technologies, such as our EnviroLoc+ infill, to "lock in" turf fibers preventing pets from digging holes. We also add our one-of-a-kind antimicrobial by Sanitized that helps eliminate bacteria to keep your furry friend safer from infections and unwanted pests.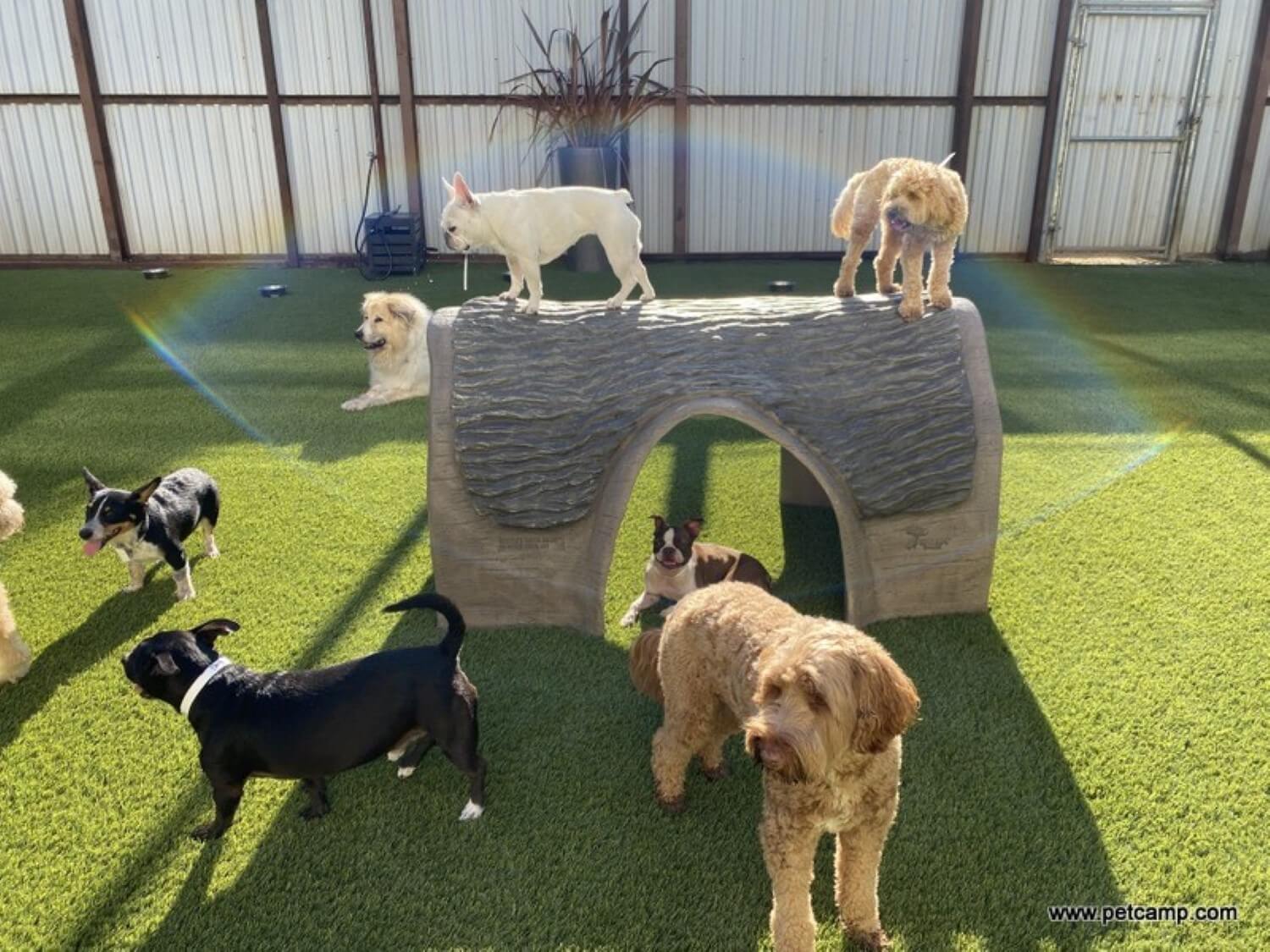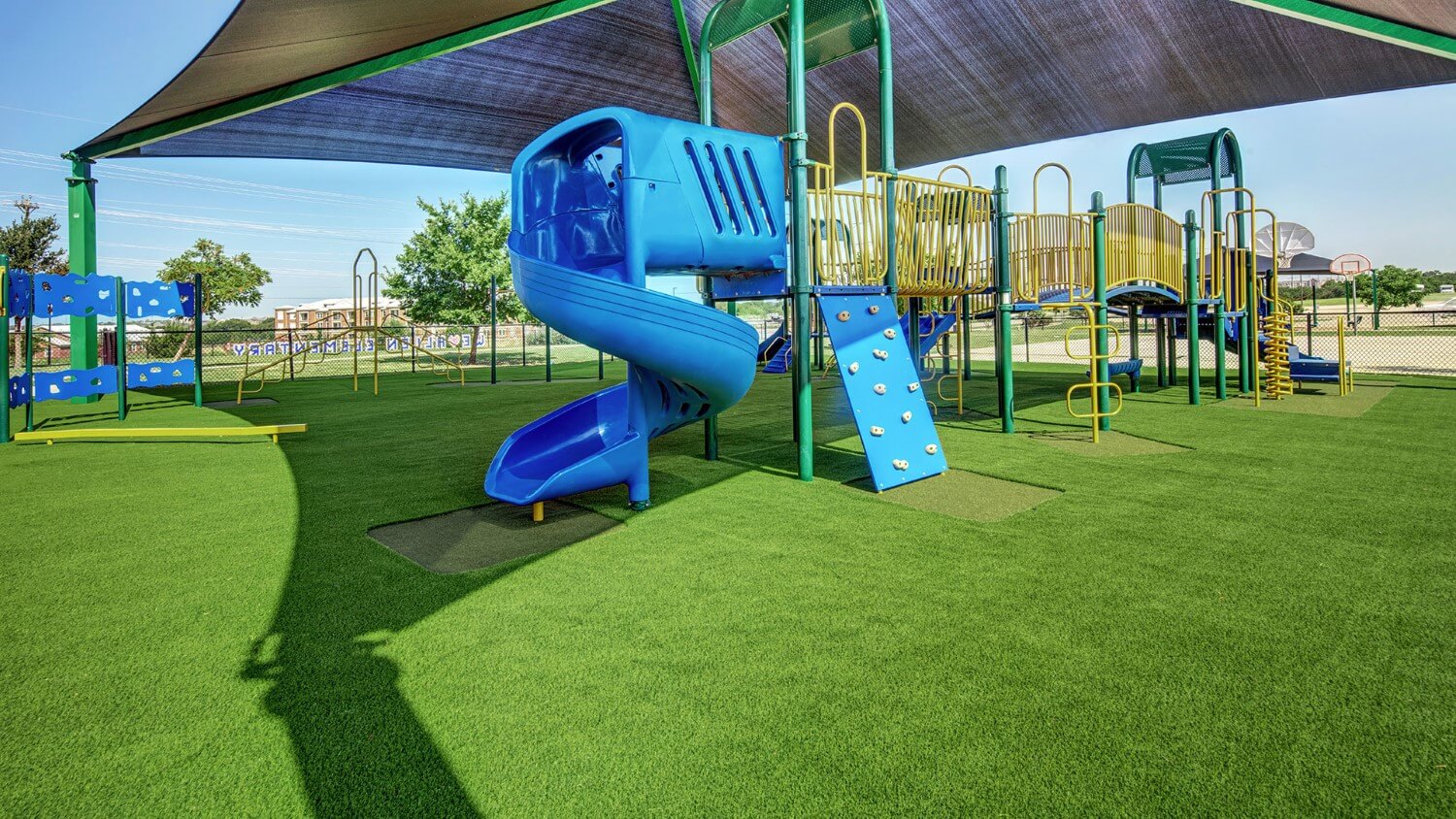 At SYNLawn Sacramento, one of our primary concerns is making sure your kids are safer when they play at school, at home, or at their favorite playground. By providing you with slip-resistant surfaces that can help shield children from falls of up to ten feet and have been treated with Sanitized® antimicrobial to stop the spread of germs, we uphold our pledges to safety and quality with our artificial playground grass. Features include:
Antimicrobial properties eliminate up to 99% of bacteria & prevent mold growth
Cooler surface temperatures than any other turf on the market
Incredibly soft turf fibers prevent abrasions
Fall Pad® underlayment added beneath the turf for added shock absorption
Tough and resilient EnviroLoc+™ backing system to prevent shifting & tearing
IPEMA certifications, ADA compliant, & ASTM Class A fire-rated
Many of us have unused space on our decks and patios and do not know what to do to bring it to life. At SYNLawn Sacramento, we encourage you to transform these spaces with our artificial turf. Your deck or patio will become your new favorite place to gather with family or friends with our artificial grass for roofs, decks, and patios.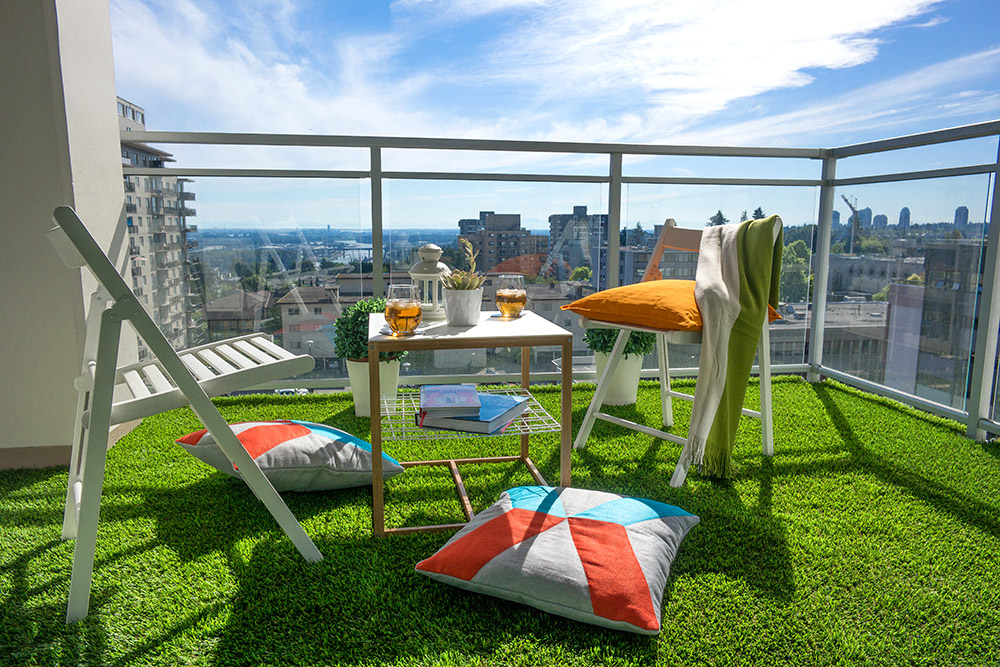 For More Information on Artificial Grass Installation in Citrus Heights, Contact Us!
At SYNLawn Sacramento, we provide artificial grass for homes, businesses, and more in Citrus Heights, California. We have created and put into practice new innovations for our synthetic turf for years. To ensure that our clients receive the highest level of satisfaction, we draw inspiration from them as we get to know them and their ideas. We collaborate closely with landscape architects, architects, building firms, general contractors, and others to deliver the best customer service and accurate installations.
For more information, contact us today to take advantage of your free consultation!
Please fill out all mandatory fields with an astrerisk *
Your information will be held confidential with our company.